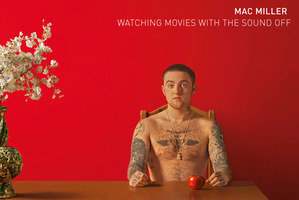 At the ripe old age of 21, Pittsburgh rapper Mac Miller has lived a life full of hip-hop cliches.
He began rapping at 14, released seven mixtapes, gained high-profile fans like Wiz Khalifa, and scored a record deal. Then came legal issues, a break-up with his high school girlfriend and an addiction to the drug cocktail Purple Drank.
All of which has led Miller to Watching Movies with the Sound Off, his second studio album and first to display a new-found maturity that belies both his age and his roots as a brat-rapper who used to spit rhymes about underage drinking.
"I'm so stubborn, I'd rather write my own history book," he says on the woozy Flying Lotus-produced standout S.D.S, a track typical of the album's introspective nature.
Similar to British rapper Plan B's last album Ill Manors, there's widescreen ambition here, with Clams Casino and Pharrell Williams contributing the kind of slurred beats that gives the album its title.
The throwaway party tracks included as bonus cuts are unnecessary - as Youforia's "we could go to the moon" ambition shows, Miller's better when he's showing off the kind of depth no one thought he was capable of.
Stars: 3.5/5
Verdict: Hip-hop upstart kicks off his training wheels
Click here to buy Watching Movies with the Sound Off
- TimeOut
Follow @nzherald_ent on Twitter for all the latest entertainment news.