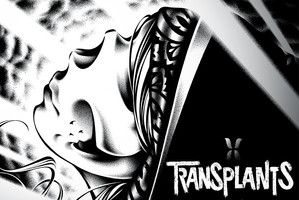 The Transplants have always been a confused bunch of rockers, mixing up rap, dub, ska, punk and funk across their first two records.
The trio - Rancid's Tim Armstrong, rapper "Skinhead Rob" Aston and Blink 182's Travis Barker - get even more eclectic on their first new album in eight years.
But it's not necessarily a good thing. In a Warzone veers all over the place: the mellow country cop-out Come Around contains mumbled lyrics that suggest Aston couldn't be bothered; It's a Problem comes with a guitar riff that will sound eerily familiar to Reservoir Dogs fans and the piano rap-rock of Something's Different is more reminiscent of Crazy Town than Kid Rock.
Then there's the opening title track, which sounds more like the rallying cry of a bunch of kindergarten kids flaunting fake tattoos than the combined efforts of a supergroup with decades of punk-rock credentials.
Sure, the quickfire anthem Any of Them is likely to be approved of by Clash fans, and they finally get their hackles up on Completely Detach - "sever the heart, sever the head" yells an incensed Armstrong - but it's too little, too late.
Come in, Transplants, your time may well be up.
Stars: 2/5
Verdict: Punk-rock supergroup isn't hard enough
Click here to buy In a Warzone by Transplants
- TimeOut
Follow @nzherald_ent on Twitter for all the latest entertainment news.