Six TV shows that will keep couch potatoes glued to their seats over the coming week.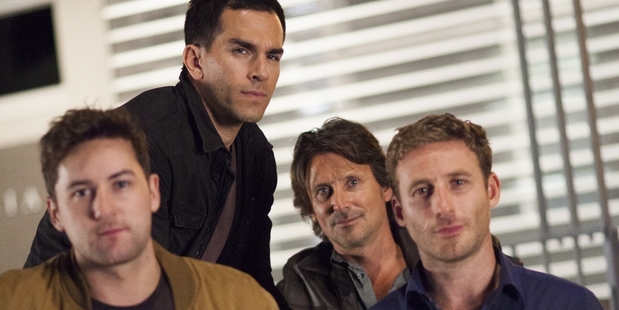 Picks of the week: The Almighty Johnsons and True Blood
It's season three for the Johnson brothers and the sixth for the ongoing adventures of Anna Paquin's Sookie Stackhouse as the series descends into an all-out war between vampires and humans.
Back in Auckland, among the suburban Norse gods, life goes on as before. Save for the fact that the series two finale left Gaia (Keisha Castle Hughes) reincarnated not as Frigg - which would have seen her finally betrothed to Axl/Odin (Emmett Skilton) as was meant to happen - but as Idun. This is a problem because Idun is the eternal wife of Bragi, who is better known as Axl's smarmy older brother Anders (Dean O'Gorman).
But the course of true preordained Nordic deity love never runs smooth and despite Gaia's promise to stick with Axl she's soon experiencing funny feelings towards Anders.
Meanwhile, brother Ty (Jared Turner) is living his life without his god powers and trying to patch things up with Dawn (Fern Sutherland), who doesn't remember they had a relationship.
Be warned, a lot more happens in the TV3 series trailer than in tonight's opening episode. So you will just have to stay turned to see exactly why Olaf (Ben Barrington) appears to be dressed as a giant mushroom threatening to "release the Kraken".
Meanwhile, the sixth season of True Blood picks up on what happened to Sookie's ex-boyfriend Bill (Stephen Moyer) after he drained every last drop of blood from the all-powerful Lilith (Jessica Clark), only to be reborn as some kind of terrible hybrid which has already been nicknamed "Billith".
This new season is only 10 episodes long, the shoot having been reduced to accommodate Paquin's 2012 pregnancy. She and husband Moyer welcomed twins last September.
The Almighty Johnsons
When: Tonight 8.30pm
Where: TV3
What: Back in Godzone
True Blood
When: Tomorrow 9.30pm
Where: Prime
What: The rise of Billith
Drama pick: Chicago Fire
Those who remember Ron Howard's movie Backdraft, or US emergency services shows Third Watch and the short-lived Trauma, may experience deja vu with this smokin' hot new series.
Chicago Fire stars Aussie Jesse Spencer in his first major role since leaving House plus The Vampire Diaries werewolf Taylor Kinney as rival unit commanders in the same windy city firehouse whose crews are reeling after the death of a recruit. The show is from Dick Wolf, the producer behind the many Law & Order franchises.
When: Tuesday, 9.35pm
Where: TV3
What: Fire bros.
Documentary pick: Wild Man
This isn't the first look at the isolated life of Robert Long, who has lived with his family by the remote Gorge River in south Westland for 30 years.
And that Long, his wife, son and daughter have become such media regulars, having written books about their experiences, is what doco-maker Paul Roy is interested in in this latest Inside New Zealand.
Roy attempts to go behind the feel-good wilderness family story and find out what drove Long - a medical school drop-out - to live in the forest, and what skeletons are in the cupboard.
When: Wednesday, 9.35pm
Where: TV3
What: Thirty years off the grid
Reality pick: House Rules
The telly renovation season is upon us with Mitre 10 Dream Home in Kaiapoi and the second series of The Block about to hit. Lukewarm from Australian primetime comes House Rules - a domestic do-it-up contest from the makers of My Kitchen Rules.
Hosted by former swimming star Johanna Griggs, the show has six couples from all around Australia competing to renovate each other's homes in a week - five teams doing a room each.
When all six houses are finished, the winning team gets its mortgage paid off.
When: Tuesday to Friday, 7.30pm
Where: TV3
What: Letting strangers renovate your home
Adventure pick: First Crossings
It's the second season of the series which actually earns the "intrepid journeys" label with super-trampers Kevin Biggar and Jamie Fitzgerald back walking in the bootsteps of earlier hardy types from the age before Gore-Tex and rescue choppers.
This season recreates eight historical journeys, some first made by Sir Edmund Hillary.
The pair also follow Kelly Tarlton's and Wade Doak's dives on the 1902 wreck of the SS Elingamite off Three Kings Islands in which they salvaged some of its cargo of gold and silver bullion.
When: Tuesday, 8.30pm
Where: TV One
What: Eight more journeys
Follow @nzherald_ent on Twitter for all the latest entertainment news.
- TimeOut