Countrywide music competition Smokefree Rockquest inspires and focuses young bands, writes Hugh Collins.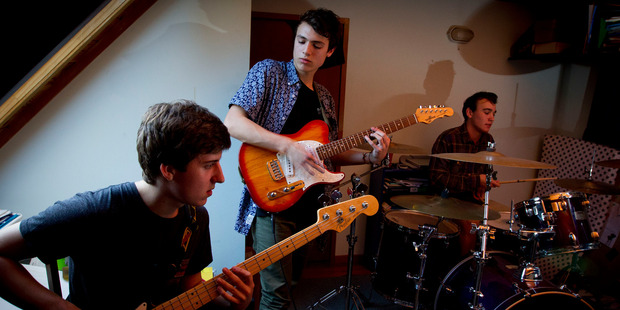 As we climb the stairs that lead to the practice space of Okapi Party, it seems forgetting earplugs was probably a mistake. Despite their confined jam space in the middle of suburbia, the trio do not hold back on the volume.
Okapi Party consists of three Year 12 students: Sam Montgomery (17) on guitar and vocals, Zane Hawkins (16) on bass and Frazer Hawke (16) on drums.
As they pummel their way through a song - a hybrid of alternative-rock and post-hardcore - it's obvious that age is irrelevant. Whether it be Sam's eclectic chord progressions, Zane's finger-style playing or Fraser's tight fills, this young band sound anything but amateur.
Formally known as "Descend", Okapi Party formed in 2009 when they were together at Parnell District School. They were regularly jamming Metallica and Red Hot Chili Peppers songs when a teacher pulled them together to enter an intermediate Battle of the Bands competition.
Now they are one of many young bands progressing through the Smokefree Rockquest, the nationwide youth music contest in its 25th year.
The annual competition is known for being a stepping stone for the likes of Kimbra, the Naked and Famous, Steriogram and Bic Runga.
For Okapi Party, who have progressed to tomorrow's Auckland Central regional final and competed in two previous Rockquests, the band say the contest brings out the best in their abilities.
"We think it's a really good encouragement for us to be writing our own original music," says Montgomery. He says that the competition has, for the past few years, inspired them to take a break from their covers band and focus on their own material. "We've always been writing original material but it's only been roughly one song per year for every competition we do."
They say that although they all attend Auckland Grammar, the school itself has very little to do with the band.
"If people want to get into writing rock music they have to get into it outside school," says Hawkins.
"Hopefully, they'll start recognising rock music a bit more," adds Montgomery. "It's very either jazz or classical-focused."
Hawkins says Rockquest stands out from other competitions such as The X Factor because of its originals-only approach. "In The X Factor you can go in and sing anyone's song but Rockquest actually forces you to write your own stuff."
The Smokefree Rockquest has taken a different approach in 2013 as it is the first year the competition has had two separate categories; one for bands and another for soloists and duos.
Seventeen-year-old Avondale College singer songwriter Thomas Stoneman, who came third in his soloists and duos heat, says that the opportunity to perform live in front of an audience is the most appealing aspect.
"I think a lot of us don't have much experience performing live because we don't have the platform to do it, so Rockquest really enables that for us."
Heat judge Leroy Clampitt, whose band the Good Fun won the competition in 2010, says that the constructive criticism that his band received was the most valuable part of his competition experience.
"The best thing about it for me was getting put in with a bunch of other bands and comparing our works and then being judged on them and constructively criticised," he says.
For 15-year-old McAuley High School singer-song writer Khona Va'aga-Gray, who won her Auckland heat in the soloists and duets category, Rockquest has been nothing but a positive and inspiring experience. "The experience and opportunity for the exposure of my music is a prize on its own."
Competition founder and director Glen Common says though the competition has a winner for each category, it is not just about finding the best act.
"If you look at the national finalists over the last 10 years, it's not one here or one there that go on to do good things, there's a significant number each year."
Common says though music trends are reflected among each year's competitors, he is also noticing that a number of entrants have been influenced by acts from the competition itself.
"There was a two piece called Luke and Amberly who have all their stuff they did for us online and a lot of kids are watching that and saying 'oh that's cool, I'd like to have a go and do something like that too'."
Despite the internet's dramatic impact on the ways in which bands promote their material through social media and streaming services, Common says that the competition has largely maintained its appeal because of the live performance aspect.
This continues to be the main drawcard for the competition's young contestants. "A live performance is an expensive thing," says Common. "So we're actually able to put a huge number of kids into that setting and give them that experience."


LOWDOWN
What: Smokefree Rockquest
Regional finals: Auckland Central - Dorothy Winstone Centre, Freemans Bay, Jul 5; West Auckland - Zeal, Henderson, Jul 6; Taranaki - TSB Showplace, New Plymouth, Jul 6; Northland - Forum North, Whangarei, Jul 12; Manukau - The Dream Centre, Manukau City, Jul 13
National final: Raye Freedman Performing Arts Centre, Epsom, Auckland, Sep 28
- TimeOut
Follow @nzherald_ent on Twitter for all the latest entertainment news.