Kiwi fans have the opportunity to re-live the thrill of a Michael Jackson show as Cirque du Soleil bring their arena spectacular Michael Jackson: The Immortal World Tour to Auckland. Lydia Jenkin went to Japan to check out the production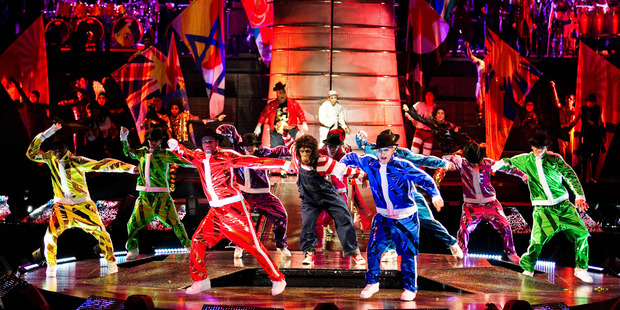 Wandering about underneath and behind the stage at Osaka's main arena - as crew check acrobatic rigs, dancers tap through their steps, musicians run a soundcheck, and aerialists contort themselves in various ways as they fly through their warm-up - there's a palpable sense of excitement.
The cast have performed nearly 300 shows since Michael Jackson: The Immortal World Tour opened in Montreal in 2011, but this is their first night in Osaka and each time they perform in a new arena the show changes all over again.
As costume designers and prop technicians introduce themselves and the anatomy of the Cirque stage is explained, it's hard not to feel in awe of the size of the production. There's a birth canal tunnel which sends performers down to emerge at the front of the B stage, an array of quick-change dressing-rooms - "rabbit holes" and "fox holes" they're called - plus multiple tiers of moveable set parts and much stuff hanging from the roof.
Michael Jackson: The Immortal World Tour is huge. And so it should be. After all, it combines two of the biggest names in the entertainment world into one multimedia arena show.
The result is a dizzying celebration of music, dance, and spectacle.
It's delivered by a cast of 49 performers - among them acrobats, dancers and an 11-piece band - backed by a crew of 66.
Together they animate more than 20 Jackson hits, integrating the boundary-stretching creativity and whimsy of Cirque du Soleil with Jackson's iconic style, moves, and songs.
There are flying welders on top of an array of shiny machines; a cloud of mummies escaping from tombs, an aerial swan ballet, a giant dancing glove and shoes, an army of robot soldiers, his Billie Jean choreography highlighted by flashing LED costumes, basketball, 1930s gangsters ... there's even a performance from Bubbles - or at least a dancer in a chimp mask.
Between the show's opening at the gates of Neverland, to the finale set to Man in the Mirror, are a lengthy medley of set-pieces.
But it's all held together by how it takes Jackson's imagery and magnifies it to Cirque proportions.
It's a production fully supported by the Jackson family and his estate, who began talking with Cirque about the idea of a show about a year after Jackson's death.
He'd long been a fan of Cirque du Soleil, having seen many of the shows, and visited the headquarters in Montreal, so it seemed like a partnership he would've been very excited about.
Artistic director Neela Vadivel says: "I think Michael, in his life, appreciated what Cirque du Soleil was doing, as another very creative company. His music, and arrangements were meticulous, the presentation was innovative, very colourful, the use of costumes, the use of the latest technologies, and he recognised that those were all things that Cirque also values. It makes sense, this combination of artists who want to be cutting edge and to celebrate diversity."
There are other Jackson connections - many people in the creative team who were involved in Jackson's work, including the show's writer and director, Jamie King, costume designer Zaldy Goco, musical director Greg Phillinganes, and choreographer Travis Payne.
"Unfortunately we never got to see the completion of [Jackson's last show] This Is It, we never got to see it come to fruition, so a lot of that work and a lot of those collaborators did transmit some of that to this show - there are some parallels there," Vadivel says.
The band also have a wealth of experience performing with Jackson. Drummer John "Sugarfoot" Moffett began playing with the Jackson family back in 1979, and worked with Michael on This Is It; bassist Don Boyette played both the Dangerous and Bad tours; and guitarist Jon Myron Clark was also part of the Bad tour.
"Having the band that we have, members who've worked with the Jackson family, and with Michael for so long, that experience, they transmit it not only in the show, but among the other artists too," Vadivel says.
"The younger artists love being able to exchange with these musicians who worked with Michael on a very personal level."
That emphasis on the live musicians, and showcasing them throughout the show is part of Cirque's desire to make this experience more like a rock concert than a traditional Cirque show, and to make sure that the show is as close as possible to what Jackson might've imagined, if he'd ever had the chance to work with the company.
"We want to have that kind of fan base involved, and that kind of atmosphere at the show, because Michael Jackson fans, they're pop or rock fans, and they want a musical experience, they want to feel the band, and feel the music. Everything else is about heightening that experience of the songs. We definitely want the crowd to get up and dance."
In Osaka, the crowd certainly do get up and dance. They're right into it as the Fanatics (a group of five dancer/impersonators dressed in Jackson's most famous outfits) pull volunteers out of their seats at half time and teach them MJ choreography. And when the show reaches its penultimate scene - a megamix of Can You Feel It, Don't Stop Till You Get Enough, Billie Jean and Black or White - the otherwise orderly punters erupt into clapping and cheering.
It seems Jackson fans are as keen as they've ever been to experience his pop genius - whether he's there or not.
What: Michael Jackson: The Immortal World Tour, by Cirque du Soleil
Where: Vector Arena
When: Wednesday, October 30 to Sunday, November 3. Tickets on sale at 9am on Friday, July 12
More info: cirquedusoleil.com
Follow @nzherald_ent on Twitter for all the latest entertainment news.
- TimeOut