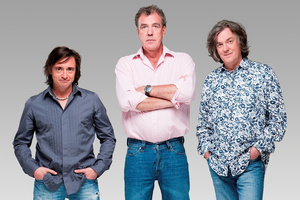 The newest season of TV's Top Gear featuring a race along New Zealand's east coast has aired in Britain to low ratings and mixed reviews.
The first episode of the show's 20th season screened on Monday with 4.7 million Britons tuning in to watch hosts Jeremy Clarkson and James May race a Toyota and an America's Cup yacht along Ninety Mile Beach.
Clarkson drove a Toyota on land against the $1.4 million Oracle catamaran. The sea was so rough May lost his cellphone overboard and was left retching with sea sickness.
Ratings put the episode 700,000 viewers behind farming show Countryfile - which reports on rural and environmental issues in Britain - and reviews in the Daily Mirror, Guardian and Telegraph called the show "stupid", "excruciating" and "an embarrassment".
Neil Midgley, from the Telegraph, slated the show's "obvious" jokes and questioned why it has so many loyal followers.
Daily Mirror reviewer Kevin O'Sullivan said watching the show was like enduring the same joke over and over again.
"Once, the beauty of the best-selling show was its remarkable ability to entertain non-petrolheads," he said. "Trouble is ... they ran out of new ideas long ago.
"Top Gear's wacky races and inane stunts have become an embarrassment."
The Guardian's Sam Wollaston likened the hosts to "uncool uncles" and said the show's stunts were "stupid, pointless, puerile and proved nothing".
Viewers also voiced their opinions, with some petrolheads backing the famed series but others expressing disdain.
"Excellent job guys. Good laughs, good guests, interesting cars, beautiful nature, crazy driving. Brilliant just keep it up," one fan wrote on the show's website.
Another viewer, David Pickles, said it was "a bit scripted/staged" and Nick Horton labelled it "boring, formulaic and tired".
Journalist and TV celebrity Piers Morgan also weighed in on the show's ratings on Twitter, and suggested Clarkson might need to start looking for alternative transport. "Top Gear beaten by Countryfile in last night's ratings? Oh dear ... #TaxiForJezza @JeremyClarkson," he said.
Another Twitter user added: "Top Gear used to be very funny. Now it's not. Stop making it BBC."
Even Clarkson himself was half-apologetic: "Thank you for all the kind comments about last night's show. It wasn't our strongest but we do have some gems later in the series."
Filming for the episode sparked controversy in Northland this year when council failed to properly consult with local iwi about the use of the land.
Ninety Mile Beach and some of the surrounding roads were also closed during filming, upsetting residents.
Follow @nzherald_ent on Twitter for all the latest entertainment news.