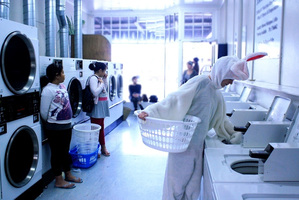 Oliver Driver, Rima Te Wiata and a dozen other actors aren't allowed to read this review. They are yet to act in this Silo production, and they are to arrive on stage alone, for one night only each, without any prior knowledge of the slim, intriguing 70-minute script.
They only know to prepare an ostrich impersonation (Mia Blake, on opening night, raised the bird bar extremely high).
The frisson of live theatre is that anything could happen; White Rabbit, Red Rabbit augments it on Sean Lynch's suitably bare and brightly lit set by delivering a performer who does not even know what is supposed to happen.
We sympathise; audience participation adds to the possibilities. The veneer over possible chaos is very thin indeed.
Or is it? One of the themes of this direct, interactive theatrical lecture/allegorical storytelling session is our will to obedience, even in an ostensibly unconventional (but fringe on-trend) theatrical event.
What stops the format from feeling gimmicky is that Iranian playwright Nassim Soleimanpour amusingly channels himself through the actor.
"Honestly I don't know what this actor is doing," says the actor, pretending to be the playwright. Soleimanpour genuinely wants to connect: he gives us his email address.
The topics of free will and suicide are introduced early, with a "vial of deadly poison" and two glasses of water set up for a game that Princess Bride fans will recognise as Iocane Roulette.
Teasing out the tangle of messages made for enjoyable discussion afterwards - is the Red Rabbit a Tall Poppy in disguise? The idea that "you're damned if you do, you're damned if you don't" is gently presented. Do you choose to please those like you or those in power? Choose life, and you end up dying anyway, it just takes a bit longer.
This was a cerebral workout rather than a hit in the guts for me, but there are so many variables, your experience of the "same" play could be completely opposite.
What: White Rabbit, Red Rabbit
Where: Loft, Q Theatre, to July 13