Major life changes influenced new album, writes Paula Yeoman.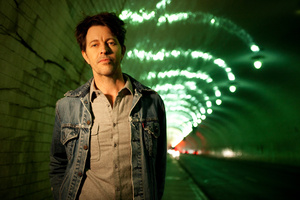 Bernard Fanning can't wait to start touring."I can finally stop talking about it and start doing it," laughs Australian rocker Bernard Fanning when asked how he's feeling about the release of his second solo album Departures and upcoming tour. "I can't wait to get on the road, just to get it out, so that people can hear something other than Battleships [the album's first single]."
Fanning, who fronted the Brisbane-based alternative rock band Powderfinger for more than 20 years, describes the highly anticipated Departures as a re-set triggered by a string of life-changing events, including the demise of Powderfinger in late 2010, the death of his father and a new baby.
"I'm reluctant to be as literal as the album title is but it ended up making the most sense. That's what Departures is about really, just that idea that there's lots of big changes, musically as well," he explains.
"But yeah, once you hit 30, that sort of stuff starts happening. Your friends start getting married, people start having babies, your parents start dying.
"That's when you start being an adult. But, you know, it's okay. Once you have kids, you start to be able to put things into perspective. Like a band finishing - it's a band, it's not life and death. Even though it was such a big part of my adult life, it was never as much as my dad."
Musically, Departures has a heavier, meatier rock sound than Fanning's solo debut album Tea & Sympathy, which spawned the soft rock hit Wish You Well.
"I deliberately tried to make a record that didn't sound like my last," he says. "I just wanted to not get stuck in that place where you are expected to write mournful acoustic ballads for the rest of your life."
Having said that, there are delicate tracks on the album, such as Departures (Blue Toowong Skies).
"I didn't consciously want to write about being a dad, and losing my dad and leaving the band and all that stuff but that song came out and I couldn't help it. And it's kind of the natural link to my last album."
Recorded at the famous LA studios Sunset Sound and produced by Joe Chiccarelli (My Morning Jacket and The Raconteurs), Fanning believes the beauty of Departures is its hidden layers. "For me, listening to the record, and most of my friend have said this as well, as you listen to it more of it is revealed. So there's stuff you don't really hear at first. That's the thing I love about records and that's what I loved growing up listening to records, you have those layers in there that aren't immediately visible.
"People keep asking me what my favourite song is and thankfully that just keeps moving around. I keep changing my mind, which is a good problem to have."
Departures is out now. Bernard Fanning will play Auckland's Powerstation on August 30 and Parthenon in Wellington on August 31.