This show is a complex art form, writes Barney McDonald.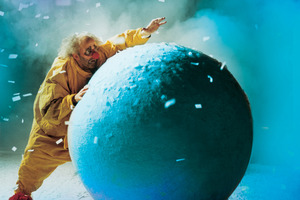 If you plopped Santa Claus and Leo Tolstoy into a clown suit you'd have Slava Polunin, a clown for all seasons, which is why he's bringing his acclaimed show, Slava's Snowshow, to New Zealand in the depths of winter.
Clowning around for much of his 63 years, Polunin is renowned for turning a circus act into an art form. He even organised a mime parade in St Petersburg in 1982 featuring 800 mimes. On the phone from his St Petersburg base, where he formed the Academy of Fools around the time of the fall of communism, the Russian sounds energised about bringing his most famous show to our shores, even though his comments are filtered through an interpreter in Melbourne.
"I have created more than 30 performances in my career," he says. "Ten of them have already lived more than 15 years. Because they live it means that I still like them, that I love them."
Polunin formed his own theatre, Licedei, in 1968, and marked its 20th anniversary with a funeral.
Contrary acts are part and parcel of a clown's repertoire, and Polunin puckishly revels in the difficulties he has faced.
"Naturally, I did have some resistance in taking clowning out of the circus and placing it in the theatre. But the more resistance I got, the more interesting it was for me. Life wasn't meant to be easy. At some stage I was prohibited in working in big theatres and big circuses, so what I did was create my own small world, a theatre for about 100 people, and I worked with real pleasure in this small theatre. I really liked it.
"Academy of Fools was a different project," he continues. "No later than yesterday we had a performance in the streets of St Petersburg, a rubbish collection festival, where many performers were dressed like rubbish removal people. We had a lot of fun."
A veteran of hundreds, if not thousands, of street and theatre performances, Polunin finds it hard to choose between the two. "I feel very excited when I perform in the street with other performers, other artists, but equally I am very much excited and pleased to perform in big public theatres, in front of hundreds of people," he says. "It gives me great pleasure."
As a parting comment, he offers handy pointers on what makes a good clown great.
"Number one, he's dreaming. And number two, constant search and persistence in what you are doing."
Slava's Snowshow plays at ASB Theatre, Aotea Centre, July 10-14. Tickets from www.buytickets.co.nz or ph 0800 BUY TICKETS (0800 289 842).