Graham Reid speaks to a record producer who has been at flashpoints of music history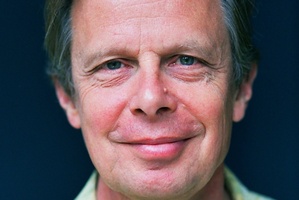 With the click track, sequencers and digital equipment, perfection is always beckoning. Producer Joe Boyd's list of great albums is a who's who of music from the 60s to today.
Joe Boyd has had a remarkable life. He toured Muddy Waters and famously difficult blues and jazz artists in the early 60s, was stage manager at the Newport Folk Festival in 1965 when Bob Dylan played his notoriously alienating electric set, and produced the young Eric Clapton and Pink Floyd's first single, Arnold Layne. He founded London's UFO nightclub, which became the centre of the underground movement, discovered and recorded Nick Drake, pulled British folk and rock together when he produced Fairport Convention. And that was just in the 60s.
He went on to produce albums by Nico, REM (Fables of the Reconstruction) and Toots and the Maytals (Reggae Got Soul), made a Jimi Hendrix documentary, produced the Duelling Banjos single from the film Deliverance.
Now, at 70, he's helmed into life a double album drawn from live concert tributes to the late Kate McGarrigle (of the McGarrigle Sisters). Sing Me the Songs finds Kate's material celebrated by her children, Rufus and Martha Wainwright, plus Norah Jones, Emmylou Harris, and others.
"It started out just as a concert production," says Boyd from London, "which, in a way, is the closest I get these days to making records the way I used to. Most artists, if you offer them the poisoned chalice of perfection would probably take it. With the click track, sequencers and digital equipment, perfection is always beckoning.
"When I hear that it just doesn't feel alive. What I like is when you can imagine, even if it's a false imagination, people sitting in a room playing and not knowing exactly what's going to come next."
This McGarrigle tribute follows the similar concerts-to-album celebration of Drake (Way to Blue) who died in 1974 after three highly regarded but barely profitable albums, and a concert in celebration of Pink Floyd's Syd Barrett after his death in 2006.
In his 2005 memoir of the 60s, White Bicycles, Boyd tells of making a very early decision to be a record producer, and his early efforts became musical milestones, such as that first Pink Floyd single. But when the band signed to EMI, he was nudged out of producing their second single, See Emily Play and their debut album, The Piper at the Gates of Dawn.
"Piper [produced by Norman Smith in Abbey Rd] is a good record, but there's a less vivid sound on it than on the singles."
Boyd says it's impossible to speculate on how he might have shaped Floyd's sound if he'd been at the desk, "but after Syd left, the music changed. I like what the group became - although it astonished me how successful they became without Syd - but it was a different thing to what originally drew me in."
A hallmark of Boyd-produced artists has been high critical credibility, fine albums, distinctive songs but always on the fringe of popular acceptance. The McGarrigles were enormously respected and he and the record company, Warners, were enthusiastic about their debut album in 1975.
"But they chose a down-in-the-mouth record cover. Then Kate got pregnant with Martha, so the tour was cancelled and this wonderful record went into the marketplace with not a lot of backing."
Then there was Drake ("He barely performed at all because he was so shy and remote. It was very hard for people to connect with him.") and Vashti Bunyan ("So shy she went off to the Scottish Highlands and lived in a horse trailer.").
You can sure pick 'em, Joe.
"Tell me about it," he laughs. "That's why I can't retire."
Ironically, the Incredible String Band - whose music fell somewhere between William Blake's poetry, Eastern mysticism and British folk - were very popular, played New York's Fillmore East four times in 1969 and sold out London's Royal Albert Hall, but today "their records seem weird, a very minority taste".
Although many that Boyd produced seem footnotes in music history, he caught REM for their pivotal third album, Fables of the Reconstruction. While still friends, "we weren't always on the same page" and he was anxious he was "going to be pilloried for having taken a perfectly good up-and-coming group and sending them back down".
"I was relieved it sold more than the first and second albums, but then the next album came along and sold about 10 times what Fables did. [At the time] they were disappointed in the record and some fans were too. But in recent years the group and a lot of websites have come around and said that is a great record. It just took a while."
In White Bicycles, Boyd tells of having a deal with some Swedish musicians, but he took up another offer. They became Abba.
"The list of the ones that got away is quite long," he laughs. "At one point [in New York] I was on my way back to London. John Hammond [of CBS] called and said, 'Can't you stick around till Tuesday? There's this artist at the Bottom Line [nightclub]. He's made a couple of records for CBS but hasn't done anything. We think you might be the right producer.'
"That was Bruce Springsteen and I flew back to London."
- TimeOut