Steve Carell tells Leena Tailor about his animated role with evil minions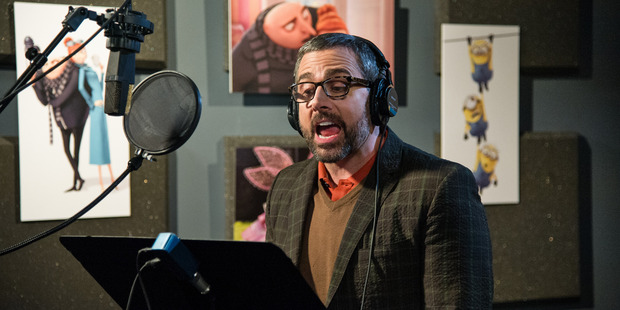 Keira Knightley, Julianne Moore, Tina Fey, Meryl Streep, Christina Applegate, Anne Hathaway, Kristin Wiig ... rattle off the list of Hollywood beauties that Steve Carell has been cast beside and the comedian shakes his head in disbelief.
"I'm one of the luckiest actors in Hollywood. The list of women I've shared movies with is ridiculous in terms of both talent and beauty. It's way out of my league quite frankly."
He may not see himself as a leading man, but at 50 the actor has firmly sealed his place amongst Hollywood's elite. Having shed his skin as despicable boss Michael Scott in The Office, these days the Massachusetts native can take his pick from the many scripts he is showered with daily, and with a wife and two children keeping him busy, he carefully chooses which projects to take on.
So why an animated flick about evil minions?
"I don't think kids get enough credit for their level of taste, so I like the fact that this is a bit dark," he tells Living.
"I love the idea of this bad guy as a hero in a family movie and being able to walk that line and have it be funny and heartfelt.
"There's a grey area, too - the delineation between what's good and bad and what's evil and not evil. You can have a big heart, but may need to be reformed in certain ways. I don't think people ever start off bad, so what I love about the movie is it's very hopeful.
It gives hope to almost anyone that their lives can change, evolve and get better."
In this sequel to the 2010 hit, the latest movie - which had a French film festival audience on its feet roaring with applause at the end of a preview screening - sees Gru (Carell) teaming up with the Anti-Villain League in their fight against a new super-criminal.
Carell says there's a clear "evolution" in Gru rom the first film, in which he saved his three adopted daughters.
"He has assumed the role of being a father and is trying desperately to put aside his evil ways and his attraction to villainy, but it's a hard habit to break. He loves that world.
"But he also loves his kids so there's that struggle. And to see his kids growing up and becoming interested in boys ... there are all sorts of problems that lie ahead for him as a dad."
While teen idol Miranda Cosgrove reprises her role as Margo and Russell Brand is back as Dr Nefario, Bridesmaids star Kristin Wiig swaps her part as Miss Hattie in the first movie for a new character, Lucy Wilde, who she describes as a James Bond of sorts.
"It's nice to see a woman in that role, with all those different gadgets and stuff," says Wiig, who will also star alongside Carell in the upcoming Anchorman 2: The Legend Continues.
"And like Steve says, it's nice that the hero of this movie is a villain. You don't see that very often, so I think it's something that makes kids, and adults, go, 'Hmm what's this going to be about?"'
While Carell jokes that he hopes Gru's features are no reflection of his own appearance, he often finds his own characteristics and mannerisms incorporated into his character when doing animated films.
"It's funny because the people who know you see more of you in the character than you do. At the time you don't get a read on your face or what you're doing and how you're acting, but they video tape all the voiceover sessions and lift expressions from your face and how you're reading the lines.
"My wife will nudge me while watching and go, 'Oh that's you!' I get it from my kids a lot too, where they're like, 'Oh, that's such a Dad thing.'
"Hopefully the nose is an exaggeration."
Despicable Me 2 opens in cinemas on Thursday.