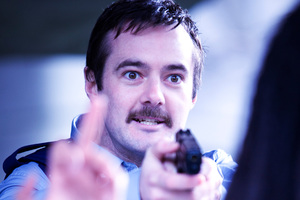 Crime might not pay, but you'd have to say there's a bit of the old New Zealand On Air lolly in it.
Even for an amateur detective like me, it's easy to find the evidence: dramas from Outrageous Fortune to The Blue Rose to Harry to documentary series like Beyond the Darklands and New Zealand Detectives, which started again this week, have all been made with NZ On Air moolah. So I'd say that it is beyond reasonable doubt that crime pays. At least it does for local TV makers who know how to fill out funding application forms.
The dramas that NZ on Air funds I get the point of - there's nothing so enjoyable as a well-made crime drama - but I really don't understand the reason for documentary series like Darklands and New Zealand Detectives (Tuesdays. 9.35pm, TV One), which simply rehash old, real-life crimes.
Mind you, as someone who assiduously avoids reading real-life crime and court stories, and typically fast-forwards through them on the TV news, I am hardly the target market for something like this second series of New Zealand Detectives.
I avoid reading or watching stuff about real crime because most real crime is of the pathetic, nasty, small-time and rather boring variety that reveals nothing more than that the world continues to contain people who are venal, stupid, low and mean. Still, at the beginning of this week's episode of Detectives, narrator Robyn Malcolm promised I was about to hear "the untold stories behind New Zealand's worst cases and the hunt for those who done it".
I can report that, told or untold, the eight or so murders (next week it's drug crime) featured were pretty bloody awful.
The first murder was typically horrific. It involved a scumbag knocking on the door of a house selected at random (he chose the house because the porch light was on, apparently), then, after the door was answered, he attempted to kill, for no reason, its three occupants, a husband, wife and their daughter, with an axe. He was successful in murdering the husband.
You can only have total respect for the coppers who put this scumbag (and all the rest featured) behind bars. However, this story, though mostly laid out by voiceover and an interview with one of the investigating detectives, was also told, as almost all of these murders were, with a "dramatic recreation" or two which, in this instance, involved a close-up of blood splattering a phone. I always wonder why these flourishes are necessary. Isn't someone telling us the story of an axe-wielding homicidal maniac enough to keep us watching? (Apparently, it isn't because even television news stories now seem to include dramatic recreations so that we thicko viewers won't be bored by talking heads.) The main problem, though, is that the recreations always look so cheap; they also lack the impact of, say, photographs from the real crime scenes, though some of these were included in one or two of the stories featured this week.
Still, the first of Detectives' three episodes was entertaining enough - if we find the brutal murder of people in suburbs just up the road to be entertaining - and it did contain one of the funniest, most nauseating stories I think I've ever heard. I'll spare you the details, but it featured a shotgun blowing someone's head off and a flock of hungry seagulls.
I won't be visiting this cop shop again. But that doesn't stop me from recommending it to other viewers, well, those with an interest in the actions of people who are venal, stupid, low and mean.
- TimeOut