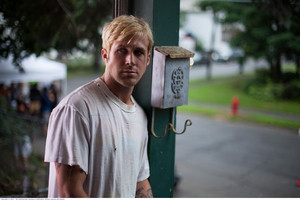 The Place Beyond the Pines takes the modern ensemble cast format, with all its interweaving storylines and contrived complexity, and returns it to first principles.
Director Derek Cianfrance (Blue Valentine) rejects tricks such as jumping back and forth in time and storylines, preferring a simple narrative where he tells one story at a time, taking us chronologically through to the inevitable conclusion.
The film begins with circus motorcycle stunt rider Luke (Gosling) discovering he has a 1-year-old son with ex-girlfriend Romina (Mendes). He quits his nomadic lifestyle, determined to win back his girlfriend, who is living with another man, and support his family. When things don't work out Luke is convinced by an acquaintance (Ben Mendelsohn) that the only way to get ahead is to put his motorcycle skills to use - robbing banks.
Gosling hardly blinks, and it's this intensity that strikes you first about Luke. It's impossible to take your eyes off the guy, partly because you're having a stare-off, but mostly because his tightly wound performance reveals a depth of character that goes from sexy and aggressive to fearful and vulnerable.
Bradley Cooper plays Avery, a lawyer-turned-cop who has been on the streets for only six months when he meets Luke. Their meeting changes Avery's life and, with a father who has high expectations, as well as corrupt co-workers surrounding him, it takes a while for Avery to work out his moral compass. The choices he makes during this time come back to haunt him 15 years later, when Luke and Avery's sons Jason (Dane DeHaan) and AJ (Emory Cohen) become friends at school. The consequences of the past are brought into relief as the boys discover who each other is, and another generation of lives is changed for good.
The Place Beyond the Pines is a film about actions and consequences; it's also a film about fatherhood, fate and second chances. A very deliberately paced drama with a naturalistic approach to storytelling, it gives equal time to each character as it almost painfully explores their dilemmas.
It makes for a powerful conclusion, assisted by fine performances from Gosling and his co-stars. Add to this an emotive soundtrack by Faith No More's Mike Patton and you've got a thought-provoking drama that lingers long after the credits.
Stars: 4/5
Cast: Bradley Cooper, Ryan Gosling, Eva Mendes
Director: Derek Cianfrance
Running time: 140 mins
Rating: R16 (violence, offensive language and drug use)
Verdict: A well-acted, brooding drama
- TimeOut