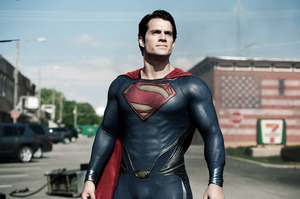 Doing a little research about Man of Steel (which is out today), I stumbled on a clip of Amy Adams (who plays Lois Lane in the film) singing a couple of lines from Can You Read My Mind? on Jay Leno. It's a song by Maureen McGovern which became the love theme for the 1978 Superman film with Christopher Reeve, but aside from proving Adams knows her Superman movie trivia, it got me thinking about Superman-related music.
Sadly, no one has ever really done him justice with a theme song - the films have always used orchestral scores - but you might be surprised at the number of popular artists who've written songs which reference the all-American superhero.
Current chart-toppers Taylor Swift, One Direction, and Robin Thicke have all paid homage to the man in the red cape - none of those songs have been singles or hits, but he's clearly provided a bit of inspiration, even 75 years after he first appeared. In fact Swift's song could prove a bit of an insight as to why she's so unlucky in love - she's waiting for Superman (or at least a man who can save the world).
It's not just the young pop stars who want to name-check him though. According to one web page, there are 566 songs mentioning Superman directly and a further 60-plus with more oblique references - and they come from all genres.
AC/DC and Black Sabbath, the Flaming Lips, Iggy Pop, Mark Knopfler, Billy Idol, even Jimi Hendrix. They've got rock covered, along with a song called Worst in the World by Russell Crowe, who actually stars in Man of Steel as Superman's biological father Jor-El. The possible implications one could derive from that are too weird for my brain to untangle. And there is at least one good Superman song from a Kiwi act in SJD'S plaintive Superman You're Crying.
Elsewhere, crooners get involved too, with Elton John, Eric Clapton, Harry Connick jnr, Ronan Keating, and John Mayer pointing out how they want to be your Superman, and/or can't be your Superman.
There are some ladies in the list too - Sheryl Crowe, B*Witched, Miley Cyrus, Barbra Streisand, Joni Mitchell, Alanis Morissette, Santogold. Some of them are searching for their Superman, some are explaining why you are or aren't their Superman, and Joni simply "saw an ageing cripple selling Superman balloons".
But the genre (loosely speaking) which seems to have absorbed the symbolism of Superman most potently is hip-hop and rap. Not only does his superhuman strength and invincibility work nicely as an egotistical comparison to their own power, but his weakness, kryptonite gets a lot of repping too.
From Coolio to Jay-Z, Run DMC to Snoop Dog, Public Enemy to Lil Wayne - they all love talkin' 'bout the man with the S on his chest.
Soulja Boy have five songs naming him, and have even started using "Superman" as a verb. But they haven't got nothin' on Eminem, who has 11 songs with Superman lyrics. He's also got a couple of songs that mention villain Lex Luthor. Someone was a big fan of the comics it seems.
There is one man who can beat him though. Shaquille O'Neal, in his four-album career, released 13 songs mentioning Superman - mostly comparing himself to the hero.
Experimental performance artist Laurie Anderson may be the only one on the list who had a bona fide hit with her Superman song - she found her eight and a half minute piece O Superman unexpectedly at No 2 on the US charts in the early 80s. It was half sung and half spoken, through a vocoder, and was something of a treatise on the state of America. And in a funny way, that might be the one Superman himself would like best - after all, he's all about making the world a better place.
- TimeOut