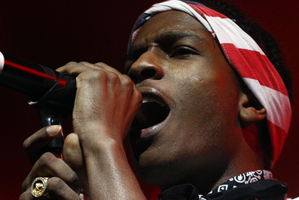 Velvet curtains. Purple lights. And a single spotlight shining on a lonely microphone stand that gave Auckland's Logan Campbell Centre an intimate lounge club vibe.
Add in a very un-hip-hop kick-off at 8.30pm that left punters scrambling to get into the venue on time and it was clear that A$AP Rocky's first Auckland appearance was going to be a hip-hop show unlike any other.
The charismatic Harlem rapper, known as much for his love of fashion as his booming rap anthems and warped Bone Thugs-n'Harmony-style flow, bounded on stage without a DJ, hype man or band in sight.
Rocky didn't seem to need them, beginning with what's starting to already feel like a greatest hits set with knockout versions of LongLiveA$AP and PMW (All I Really Need) - tracks taken from January's major label debut that's shaping up as one of the year's best rap albums.
Like the 24-year-old's career - which started with a 2011 mixtape that earned him a $3 million deal with Sony and has seen him work with everyone from Rihanna to Lana Del Rey, Florence Welch and Skrillex - Rocky avoided hip-hop cliches like the plague at his sold out concert.
"This isn't a show, it's a party," Rocky declared, regularly surfing through the crowd to prove his point, spraying the overheated front rows with water and letting two budding Kiwi MCs battle with him.
Rocky's reward? Boy band-style cheers for his every move.
After delivering those early blows, Rocky disappeared behind his curtains to deliver the best track of the night in Suddenly, a slowburning soul stunner that morphed into moshpit mayhem as the curtains dropped to reveal Rocky's full band, including three members of his rap collective A$AP Mob.
The hits kept coming with Goldie, Wassup, Peso and Rocky's version of Schoolboy Q's Hands on the Wheel (Chorus: "Life for me is just weed and brews") delivered like aggressive adrenaline shots to the heart, as rolling waves of bass and Rocky's quickfire flow pummeled the crowd.
The two-hour show climaxed with Wild for the Night, and whatever you think about the Skrillex-produced rave-rap hybrid, it needs to be experienced live before being dismissed. Quite simply, it went off.
Rocky finally gave in to one rap convention, allowing fans on stage for the finale of F***in Problems, but by that stage he'd proved his point: A$AP Rocky's paving his own path. You'd be stupid not to follow him.
What: A$AP Rocky
Where: Logan Campbell Centre, Auckland
When: Tuesday, June 25
* What did you think of the show? Post your comments below.
- nzherald.co.nz