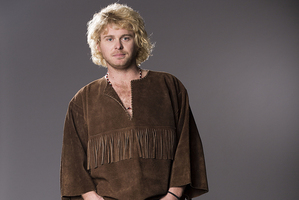 Tom Batchelor is fine with being voted off The X Factor NZ because it means his friends still have a shot at winning the competition.
The Dunedin songwriter was voted out of the TV talent show last night after he and Palmerston North singer Benny Tipene were surprisingly dumped in the bottom two.
Judge Stan Walker said casting the deciding elimination vote was the hardest thing he's had to do on the show.
Batchelor said he was happy with the decision.
"I just felt so bad for everyone else because everyone's so tight. I'd rather go home and let someone else have a go."
He was looking forward to going back to his life as a working musician with his band The River Jesters.
"I'm pretty much going straight back into what I was doing before. I was just busking and playing gigs. Eating every three days. I just hope it will be a bit more luxurious this time."
Batchelor said seeing his fellow contestants every day was the thing he'd miss most about being on X Factor.
Last week's evictee Anna Wilson fueled rumours he was dating show favourite Jackie Thomas.
She called the pair "cute" and said "all will be revealed" about their X Factor romance.
Batchelor woudn't confirm the rumours. But he is planning to record a duet with Thomas once the show is over.
"It's going to be a bit soul and a bit jazz. Think Frank Sinatra kind of stuff."
The hardest thing about being on X Factor was having to play covers every week, Batchelor said.
"Covers is how you make money in music and originals is how you show people who you really are.
"I found it hard to portray myself through covers."
He is looking forward to going back to originals, even if it means exchanging the X Factor stage for a bar room gig.
"That's what I love doing. We'll just see what happens."
- nzherald.co.nz