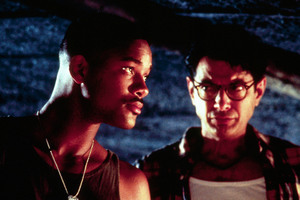 The director behind hit 1996 blockbuster Independence Day says Will Smith won't be returning for the sequel because he costs too much.
The Independence Day sequel is being directed by Roland Emmerich and will be reportedly filmed in two parts, ID Forever Part I and Part II.
Emmerich confirmed to the New York Daily News that Smith won't be reprising his role as Captain Steven Hiller, a fighter jet pilot who crashes his plane, punches and kills an alien before dragging his body across the desert.
"Will Smith can not come back because he's too expensive, but he'd also be too much of a marquee name," said Emmerich. "It would be too much.
"We have like maybe half of the people that you know would know from the first film (in the script) and the other half people who are new."
Emmerich confirmed one other detail: "I think some aliens will be back."
A release date for the first sequel is set for July 15, 2015.
- nzherald.co.nz