Mavis Staples' new album draws on her repertoire of emotionally evocative songs. New album mines singer's gospel history, writes Paula Yeoman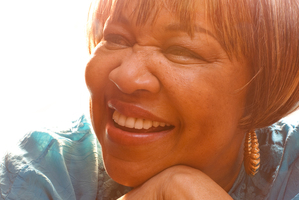 Mavis Staples is at home in Chicago. It's just a quick stop-off to recharge the batteries for the 73-year-old soul-gospel legend, who has spent months on the road with Wilco.
"I can kick my shoes off," she roars with laughter as she settles in for a chat about her new record, her second collaboration with Wilco frontman Jeff Tweedy.
"We just came home a few days ago from California and New Mexico. We travel year round, you know. We're booked into next year. People ask, 'Mavis, what keeps you going?' It's the people. It's my fans. I feel so good looking out into the audience and people are smiling, some are crying. I am bringing joy. I am doing what I think I was put here to do.
"I've never been singing for a Grammy or for money or for fame, I'm singing for the people."
The Rock and Roll Hall of Fame honoree has been a part of America's musical fabric for six decades. Her career spans some of the most poignant moments in the nation's history, from segregation and her involvement in the civil rights movement, to her performance at the inauguration of President John F.
Kennedy, and the election of President Barack Obama, who counts Staples as one his favourite singers.
Born in 1939, Staples made her singing debut when she was 8, joining her father, the also legendary Pops Staples, and her sisters Yvonne and Cleotha, in front of a church congregation in Chicago. In 1952, the Staples Singers were snapped up by a record company and by the 60s, they were turning out hits.
And so, it's with much joy, says Staples, that Tweedy has helped her come full circle with her latest album, One True Vine. It's a faultless, beautiful and powerful mix of old and new songs and the most heavily gospel-influenced the vocal powerhouse has made in recent years.
"My skin moves on my bones," Staples says of the new songs that Tweedy wrote for her. "When I first heard the lyrics to Jesus Wept, we were sitting up in the studio and I tell you, I listened to those lyrics and tears were just streaming down my face.
"Everything he hit me with - One True Vine, unbelievable! I said, 'Tweedy you are gonna make me hurt myself'. He goes back. He goes way back into the music. He loves the old time stuff."
She's also full of praise for the covers he brought to the mix.
"What Are They Doing In Heaven Today ... these songs are from slavery times. I was a little girl and the entire church congregation would sing this song. My father was singing with an all-male group and they used to sing it - they were the Trumpet Jubilees and they sang it jubilee-style," Staples says, bursting into song. "He [Tweedy] has brought me all the way back home."
Staples loves retelling stories of the old days and, reveals she is chipping away at her memoirs.
"It should be finished at the end of this year or maybe the beginning of next year. I don't have a title yet but I have a friend here from the Chicago Tribune ... who is helping me with it ... I tell him all of my stories. Some of them I tell him, 'Now Greg, don't write this, this is off the chart'," she laughs. "Because I gotta lot of stories ... I catch myself and say, 'Oh, hang on a minute, you can't write that'. I'm looking forward to the book, it's my entire life."
And there have been many, many wonderful moments.
"For one, the fact that I shook Dr Martin Luther King's hand. I have sung for Dr Martin Luther King. This man was the greatest person I have ever known. The work that Dr King did, he died for us. He bought us out of bondage, per se. I was so glad to see the water fountains in Mississippi, Alabama and Georgia, for coloured only, I was so glad to see those signs come down. We travelled with Dr King. We would sing before he would speak.
"Back in the 60s we sung for President John F. Kennedy ... I feel so honoured that I have worked with Curtis Mayfield, Bob Dylan, the greatest poets in the world. So I've had just a wonderful, wonderful life. If I leave here tomorrow, I have nothing to ask for, I have left with everything done that I wanted to do."
• One True Vine is released on June 28.