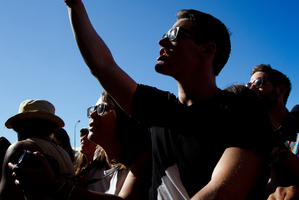 One in three revellers at music festivals have items lost or stolen resulting in their experience being "completely ruined", according to a survey.
Festival-goers lose gum boots, have their mobile phones stolen, on average spend up to three hours queuing for the toilet and have only four hours sleep, the survey of 2000 music-lovers showed.
With 135,000 people due to arrive in Glastonbury this week, insurer Allianz Your Cover has warned that a third of them will be a victim of a theft or will lose some of their belongings.
The insurer's survey said 30 per cent of victims admitted it "completely ruined their festival experience".
The study found that the average person takes €200 to spend, while some campers put themselves at risk by taking expensive gadgets with them.
Some 63 per cent of people said they bring a digital camera or video camera, 50 per cent bring a smartphone, 13 per cent bring a tablet or laptop, 12 per cent bring speakers and 6 per cent bring hair straighteners.
The survey found tents are often targeted by thieves, with 47 per cent of campers saying they lost belongings from unsecured tents as they were watching bands play, while 13 per cent of people said they had been robbed while they were sleeping.
Cars are also a prime target for festival thieves as over one fifth of victims have returned to their cars to discover they have been broken into.
Alcohol consumption was suggested as a factor, with 74 per cent of campers admitting they will consume more than the recommended daily alcohol allowance, and 15 per cent admitting to drinking more than 20 units each day during the event.
According to the survey, 23 per cent of festival-goers will return home without their sunglasses, 18 per cent will return without their flip-flops and 13 per cent will lose their gum boots.
Jon Lott, head of the insurer, said: "Smartphones and gadgets are an attractive target for festival thieves, who are an ever present threat.
"People will often let their guard down at festivals whilst they're having fun."
- PAA