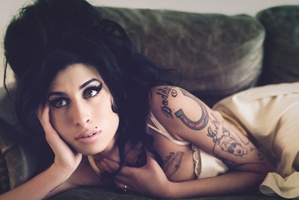 Amy Winehouse, the singer whose life was dogged by drug and alcohol abuse, was killed by an eating disorder rather than by her addictions, according to her brother.
Alex Winehouse, 33, told Observer Magazine that his sister's long battle with bulimia "left her weaker, and more susceptible". He added: "She would have died eventually, the way she was going, but what really killed her was the bulimia."
Winehouse, who won five Grammy awards for Back to Black, died in July 2011 at the age of 27. An inquest recorded a verdict of misadventure after finding she had 416mg of alcohol per decilitre in her blood - more than five times the legal drink-drive limit and enough to make her comatose and depress her respiratory system.
According to her brother, who was speaking to mark the opening of an exhibition dedicated to his sister's life at the Jewish Museum in Camden, north London, her system had been fatally weakened by years of bulimia, a disease in which bouts of extreme overeating are followed by depression and self-induced vomiting.
"Had she not had an eating disorder, she would have been physically stronger."
He said that, as a 17-year-old, his sister had a group of friends who "were all doing it. They'd put loads of rich sauces on their food, scarf it down and throw it up. They stopped doing it, but Amy never really stopped. We all knew she was doing it but it's almost impossible [to stop], especially if you're not talking about it."
The National Institute for Health and Care Excellence suggests that 1.6 million people in the UK are affected by an eating disorder, of whom around 11 per cent are male. More recent research from the NHS, has shown that up to 6.4 per cent of adults display signs of an eating disorder. It is estimated that, of those with eating disorders, 40 per cent are bulimic. Research has found that 20 per cent of anorexia sufferers will die prematurely.
After Winehouse's death, her family set up a foundation in her name to prevent the effects of drug and alcohol misuse on young people. The charity donated to Beat, the eating disorders charity, to enable it to continue running an internet forum with a moderator.
Alex Winehouse said: "Beat was in real need of an online forum ... so that there's always someone there to talk to. I just want to try to raise awareness of bulimia. It's a real dark, dark issue."
- Observer