Unwelcome intrusion of latecomers only sour note of NZ Symphony Orchestra's heart-warming Requiem.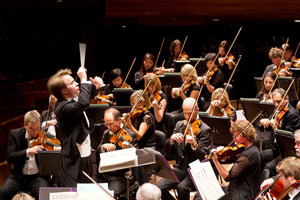 For a moment, it seemed that the New Zealand Symphony Orchestra's Verdi Requiem might not happen.
The weather gods had already denied us the orchestra's Friday concert. This meant that Eve de Castro-Robinson's The Glittering Hosts of Heaven could only work its magic on those who tuned in to Radio New Zealand Concert's broadcast of the Wellington premiere a week ago.
Come Saturday, thanks to the Royal New Zealand Air Force, the NZSO made the journey and a capacity town hall audience experienced what must be one of the most uplifting concerts of the year.
After all the suspense, one might have expected nervousness in Verdi's opening pages. There wasn't. Pietari Inkinen created a mood of appropriate serenity while the combined voices of Auckland Choral and Dunedin's City Choir moved smoothly, within seconds, from whispered testaments of faith to rousing a cappella.
The great hurled cries of the Dies Irae were spectacular, against the orchestra's sonic fire and brimstone.
Alas, during the trumpet fanfare, when one should surrender to the interplay of on- and off-stage instruments, there was an unwelcome intrusion.
Extraordinarily, an usher led two latecomers up the central aisle to their front-row seats. Such was the boldness of their procession, one wondered whether this was a piece of radical staging, representing, perhaps, damned souls being led to the Final Judgment. Joking aside, there is no wrath strong enough to condemn this appalling lack of professionalism from The Edge.
Lisa Harper-Brown, Margaret Medlyn, Rosario La Spina and Jud Arthur made a solid quartet of soloists.
Medlyn, more relaxed in her original mezzo range, introduced a number of ensembles. A seasoned operatic singer, she caught the theatrical spirit of the composer, most notably in the Lacrimosa.
Her voice blended beautifully with that of Harper-Brown in the Recordare, as well as in the testing unison of the Agnus Dei.
Harper-Brown, last seen on this stage as one of the NZSO's Valkyries last year, showed a real feeling for Verdi's long, pliant melodies. She was mostly confident with punishingly high notes.
The virile punch of La Spina's tenor almost startled on first hearing. As well as contributing sterling solos, he dominated ensemble work, once or twice with just a hint of bluster.
Although Jud Arthur appeared slightly nervous, he proved that he can plumb the depths that Verdi demands, even if occasionally a certain resonance was wanting.
Minor reservations in terms of finesse will no doubt be attended to over the next week which sees this programme being taken to Christchurch, Dunedin and Wellington. Music-lovers in those centres should not miss one of the assured highlights of the season.
Classical music
What: New Zealand Symphony Orchestra
Where: Auckland Town Hall
When: Saturday.