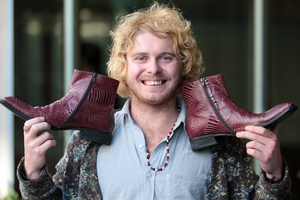 Barefoot X Factor finalist Tom Batchelor is in love - his heart has been captured by new crocodile-print boots.
He admits they are inseparable.
"I slept in them last night, even," said a thrilled Batchelor, 22. "I was so excited."
He was criticised by judges after appearing barefoot last Sunday, but says the new boots he's been given are a perfect fit for this week's song.
"These are my dancing shoes. I'm going to get my groove on."
The shoes were donated by the owner of Maher Shoes, who is delighted Batchelor enjoys his new size nines.
Glen Maher said he felt sorry for the South Island contestant.
"Just the fact that they were giving him such grief for having bare feet - it was the perfect opportunity to get the man some nice flash boots."
Batchelor denied rumours about a relationship with a fellow X Factor hopeful, Greymouth beauty Jackie Thomas, 22.
But he admitted asking her and his mentor judge, Ruby Frost, to go out with him. Both turned down the offer.