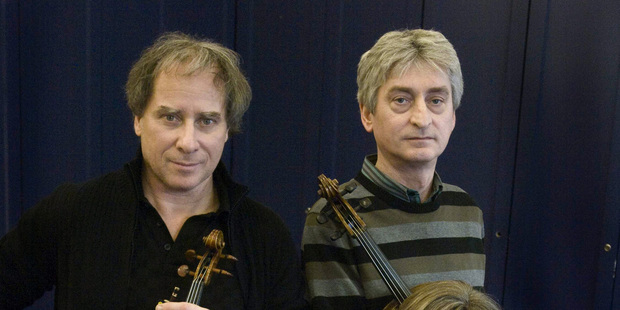 The Keller Quartet has always maintained a keen sense of dialogue and interface in its programming, famously interweaving Bach's Art of Fugue with "secret treasures" written by the group's mentor, Hungarian composer Gyorgy Kurtag.
Its latest ECM release features two tastily astringent Ligeti quartets wrapped around the melting loveliness of Samuel Barber's famous Adagio.
The result? Barber's potentially over-luscious music comes across with remarkable emotional restraint - as a sort of romanticism minceur, perfectly toned for the temper of our times.
Gyorgy Ligeti (1923-2006) was a key figure of the 20th century, a colorist and musical explorer without equal, as well as a quirky humorist. We do not hear him enough in our concert halls, and each time a work is scheduled, one inevitably wonders why we do not have more of him.
All these qualities are revealed in Ligeti's 1954 First Quartet, along with the strong influence of fellow Hungarian Bela Bartok.
The musicians navigate with absolute sureness through the 21 small sections of what the composer describes as "Metamorphoses nocturnes". In doing so, they impart a real sense of discovery, with an exemplary ECM production extending and enriching the sound world fashioned by strings and bows.
An early Adagio is a searing Slavic whisper, leading the way to a swooning, tongue-in-cheek Tempo di valse; at one point, mysterious chords roam about like phantoms of the harmonies that populate the Barber Adagio.
Ligeti's Second Quartet was penned in 1968, about the time the composer would have discovered his music had been used, unbeknown to him, for Stanley Kubrick's 2001.
This is a tougher listen, reflecting the more radical and complex times in which it was written. Nevertheless, there are no real terrors for the timid; these musicians are eloquent advocates for the Hungarian, as Ligeti investigates the myriad possibilities of time and texture. The effect can be giddying, bracingly so when you can relax in the company of such authoritative performances.
The slo-mo, slide-and-glide of the second movement hypnotises; the wild, dueling chords of the fourth have the immediacy of a thrilling sports match, taken to a somewhat higher aesthetic plane.


Classic CD
Keller Quartet: Ligeti & Barber String Quartets (ECM)
Verdict: "Brilliant quartet programme combines tasty astringency and the meltingly beautiful."
Rating: 5/5