Radio, quiz and footy shows – Nick Grant asks if there's anything Eddie McGuire can't turn his hand to.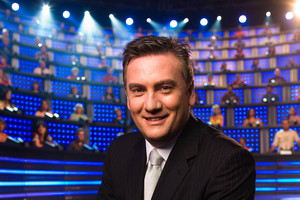 If Australia experiences an energy crisis soon, simply hooking up the apparently irrepressible Eddie McGuire to a turbine would surely sort the problem pronto.
Best known in NZ as host of Who Wants to be a Millionaire and its shorter spin-off Millionaire Hot Seat, in Oz the 48-year-old McGuire has earned the nickname "Eddie Everywhere" thanks to the enormous array of gigs he simultaneously holds down.
As well as fronting Hot Seat, McGuire heads his own TV production company, co-hosts a breakfast radio show, and provides Australian Football League commentary for Fox Footy, a channel on which he also has his own AFL talk show.
"And then there's the philanthropic side - the nuns used to belt into us that to whom much is given, much is expected," he told Living with a laugh last month.
"I really believe in that. When you've been given a good hand in life like I have, you've got to get in there and try and make good things happen."
To that end, McGuire is president of the Collingwood Football Club and Melbourne Stars Twenty20 cricket franchise, serves on the boards of the Victorian Major Events Company, Athletics Australia, and State Library of Victoria Foundation, and works for a number of charitable causes.
So what does a typical day involve?
"Well, last Monday I did breakfast radio for three hours in the morning, then between 9.30 and midday I had business meetings and dropped in at Collingwood, and in the afternoon I did six Hot Seat records. I just bang 'em through, there's no stopped takes in the middle of anything, unless a light falls out of the ceiling, and that's only happened once or twice.
"Then I went straight to the Foxtel studios to host the Monday Night Football match, got home about half past 12 was asleep by about 1 o'clock and up at 4.30 to do it all again.
"And among all that there's family time and all the good, fun things that are happening there, so my life is sort of the ever-moving roadshow. Sometimes you bite off more than you can chew, and then, as the old saying goes, you just chew harder."
McGuire was talking to Living to promote Millionaire Hot Seat, which regularly rules the 5.30pm weekday ratings roost on both sides of the Tasman.
Tomorrow, the 150th episode will play here on TV One; in Oz the show is rapidly closing on its 1000th (older eps can also be seen during the week on Prime at 6.30pm).
McGuire attributed Hot Seat's success to the enduring appeal of multi-choice quiz shows, its 30-minute timeframe, when it screens ("People are just home from work, the family wants to watch something before the news comes on"), and its broad appeal ("Everyone from the 4-year-old to grandpa and grandma can have a crack at the questions, and there's nothing to offend anyone").
"People also generally love watching others doing well, although sometimes they don't like the contestant and want to see them fail," he laughed.
"And it's amazing how, towards the end of the show, you see even the most annoying person get a bit susceptible and you realise how much it means to them.
"The number of people we've had on who've had their life savings carved up through the global financial crisis and just dissolve into a heap when they win some money... It's a really good thing to see."
What McGuire doesn't like seeing is people losing. "I know bad news is coming on at six o'clock," he said, "so it's great to be able to celebrate changing people's lives in a really good manner for the half-hour beforehand. I hate it when they get the last question wrong."
In conversation, McGuire's relentless positivity came off as intrinsic to both his psychological makeup and multifaceted success.
When asked about his 18-month stint as CEO of the Nine Network six years ago, for example, he firmly framed what many have dubbed a failure as a "tremendous learning period".
That glass-half-full attitude will be essential now. Just days after our interview he made a racially-charged crack on his radio show that attracted the same kind of ire as Paul Holmes' infamous Kofi Annan comment.
The jury's still out about the long-term damage to his image and career.
"It's not how you get knocked down," he told Living before the controversy blew up, "it's how you get back up again." Watch this space.
* Millionaire Hot Seat screens weekdays at 5.30pm on TV One. The 150th episode to screen in New Zealand plays tomorrow.