The filmmakers behind Man of Steel found plenty in common with their character, finds Leena Tailor.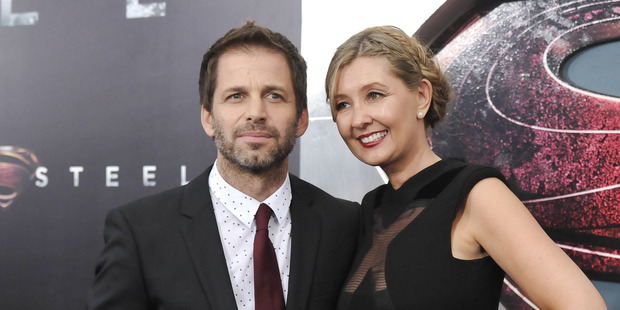 Hollywood filmmakers Zack and Deborah Snyder were in the midst of filming Man Of Steel when someone pointed out a parallel story was unfolding in their own lives.
The husband and wife team, who directed and produced the movie, were in the process of becoming parents and quickly realised that the family themes of the comic book tales are what continue to resonate with fans, and what they hope sets their 3D take on the story apart from previous Superman films.
"It's easy to get paralysed by how important this character is and the fact he's been around for 75 years," says Deborah. "It's not just about an action movie or comic book, it's a story that's so dimensional and has emotion.
"Zack and I adopted our two children while making the film and one of the social workers said, 'You realise Superman is the greatest adoption story of all time?'
"I hadn't thought of it that way but I think all these themes of family are what's going to surprise the audience. They're going to be expecting spectacle and action sequences but we also explore the depth of the characters and the story."
The pair cast British actor Henry Cavill, 30, in the iconic role of Clark Kent, alongside Oscar nominees and winners including Amy Adams as Lois Lane, Russell Crowe as Clark's birth father Jor-El and Kevin Costner and Diane Lane as his adoptive parents.
Cavill, star of TV show The Tudors and the film Immortals, confesses he tried to turn a blind eye to the magnitude of the role, which has quickly turned him into hot property in Hollywood.
"I tried to ignore the pressures because I thought they would get in the way of doing the job efficiently. There are so many people to please and he's so close to so many people's hearts. I know I'm not going to please everybody. So for me the biggest pressure was to look, feel like and get across the soul of the character."
In the film - which follows Clark as he grapples with his superpowers while going up against Krypton nemesis General Zod - Superman finally ditches his famous red underwear, wearing a sleeker and darker-toned outfit, which Cavill says helped him step into the superhero mindset.
"Aside from being physically uncomfortable and the lack of a fly, the suit is a very special thing to put on," he says. "It really helps transport you into the character. So much has gone into the design of it and, every morning, putting it on was an experience."
Crowe adds that the costumes were a challenge outweighed by working with Zack Snyder, whose previous credits include 300 and Dawn of the Dead.
"Doing a film like this could be really complicated and not pleasant," says the former Aucklander. "The costumes look slick but they're not easy to wear, especially when you're doing fight sequences where you might actually have to lift your foot or bring your arm up! It's a battle in itself.
"Zack may look like one of the fan-boys the movie's geared towards but within that fan-boy head is this huge brain and gigantic heart and he set up a situation for every single person on set where the challenge was fun. That's an important part of what comes across on-screen - the amount of enjoyment we had."
* Man of Steel opens in cinemas on Thursday