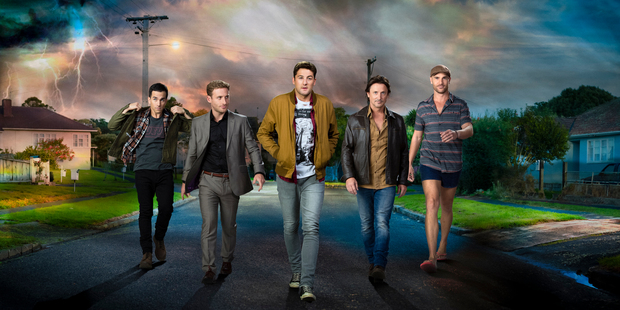 New shows and new seasons will be tumbling on to your screens this July, on both TVNZ and TV3, so here's a selection of the highlights.
* TV One have decided to add some 7Days-style comedy to their current affairs line-up, introducing a new show called Best Bits. It will be hosted by Te Radar, and feature a panel of comedians taking a closer look at the week that's been and poking fun at New Zealanders. In fact, it's even being made by the co-creators of 7Days, The Downlow Concept, and has received NZ On Air funding of $385,280 for 13 episodes - a similar amount per episode to 7Days, which was granted $760,000 for 26 episodes this year.
*Though there was initially some confusion about whether local laddish Norse god series The Almighty Johnsons would be back for a third season (a number of the creators and cast members first thought it had been axed by TV3, but then it received $6.9 million in funding from NZ On Air, and it was all back on), production is now finished, and will begin screening again on Thursday, July 4 at 8.30pm on TV3.
And that's not all the good news - the storyline picks up almost immediately where season two left off, which means all the core cast members, including Keisha Castle-Hughes, Emmett Skilton, Dean O'Gorman, Jared Turner, Tim Balme and Ben Barrington, are returning.
Furthermore, international interest in the show (which screens in Britain, Canada, Australia and various other territories) has become such that the show's creators, local company South Pacific Pictures have teamed up with innovative British-based company BeyondTheStory to create an app (or a +Book, as the company calls it).
This is the first time BeyondTheStory has worked with a television series, having previously created multimedia apps for books like The Diary of Anne Frank and the movie After Earth, with images, audio, behind-the-scenes video, 3D content, and real-time updates.
With The Almighty Johnsons, they will also be novelising the 13 episodes in season three, so fans of the comedy-drama will be able to immerse themselves even further in the world of the family of Norse gods.
It's the first app to be created for a New Zealand TV series and will be available to download after the show begins screening.
* A number of home renovation reality shows are also starting soon.
Mitre 10 Dream Home is returning on July 2, at 7.30pm on TV2.. Hosted by Simon Barnett, the original DIY show returns after a four-year break and heads to Canterbury. Initially six families are up for the challenge but only two will get the chance to build their dream home, room by room. This season is all about building eco-friendly homes and providing viewers with useful information and practical DIY tips.
AIA Marae DIY kicks off on July 3, 8.30pm on Maori Television. The series is a mix of Dream Home-meets-Mucking In at marae around New Zealand, and celebrates its 10th birthday this season. The first episode takes place at Putahi Marae in Frasertown, northern Hawkes Bay, and is the first to feature new co-presenter and up-and-coming singer, Ria Hall.
House Rules is due to start in the first half of July, and comes from the Australian makers of My Kitchen Rules. It pits six couples against each other in a DIY battle but the twist is, they won't be doing up their own homes - they hand over their keys to a rival team to renovate the house any way they want. Following each room renovation the teams are scored by judges, architect Joe Snell and magazine editor Wendy Moore, and the overall winners have their mortgage paid in full. They also have to hope their opponents' design taste is to their liking.
And The Block NZ will be back later this year. Apart from the location of the four houses (Belmont, North Shore) details about the second season of the show are scant, but it is tipped to begin following the conclusion of House Rules.
- TimeOut