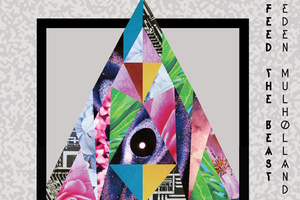 Eden Mulholland wears multiple musical hats - he's in the Mots with brothers Jol and Will, he's the driving force behind Motocade, and he composes music for dance and theatre shows. On debut solo album Feed the Beast he meshes his more rhythmical, dance composition leanings with a real knack for pop hooks, and comes up with one of the most brilliantly eclectic indie pop albums of the year. His instrumental prowess is clear, with a beautiful lonesome piano part among the guitar ostinato on Supermarket Blues, while the piano solo on Where is My Jealousy has a deep propulsive pull. Early single I Will Echo is a joyous pop sing-along, and frenetic, spiralling, Body Double with its layers of pulsating synths, and vocoder vocals, is infectiously groovy.
Feed the Beast is a poignant 90-second showcase of vocal harmonies, and lyrical focus, which gives way to the intense, careening, industrial hip-hop beats of Beside Itself, complete with heady rap-style vocals. Mulholland's pure, vulnerable falsetto on Supermarket Blues and black-humoured Such a Shame You Must Die is an impressive contrast to the lower, knowing tones of Body Double or Mekong Delta, and more childlike verses of Blueprint.
Stars: 5/5
Verdict: Alluring pop record fuelled by the rhythm of dance
Click here to buy Feed the Beast by Eden Mulholland.
- TimeOut