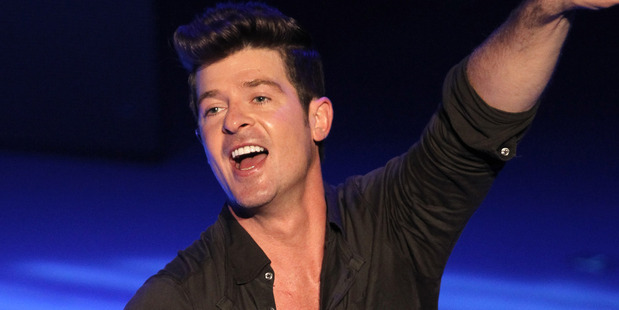 Robin Thicke wasn't surprised his music video for Blurred Lines was banned, but thinks the clip, filled with topless women, is just simple fun.
"Who doesn't like looking at boobs?" he told AAP in Sydney.
"We've been sculpting and painting women's naked bodies since the beginning of time.
"It's in every museum you go to, so my video is no different."
Thicke, 36, says he knew the music video, which YouTube banned within 48 hours of its release, would be controversial.
"I think any time you put naked girls in your video you kind of have a feeling some people are going to talk about it," he says.
"The first two days it was out, it got a million hits a day.
"I think 14-year-old boys were overloading the system."
Thicke says YouTube took it off because they didn't want to be responsible for what would come next, "which was religious groups".
The video has since been watched more than 40 million times on Vevo and the single is a worldwide hit.
In Australia, it's currently sitting atop the ARIA singles chart for its sixth week in a row.
The song marks the third time Thicke has worked with Pharrell Williams, following the producer's work on his second album and the track they created for animated film Despicable Me.
Thicke is upfront about collaborating again with Williams, his friend of ten years, and TI for Blurred Lines.
"I normally write and produce my own music," he says.
"But my last album didn't do well at all and no one bought it, so I figured maybe I should start working with some other people."
The album, also titled Blurred Lines, hits Australian stores on July 12.
It also includes collaborations like Give It 2 U, produced by Dr Luke and featuring Kendrick Lamar; Take It Easy On Me, produced by Timbaland; and Feel Good, co-written and produced by will.i.am.
Thicke says he's looking forward to showing it off and not just because he put so much blood, sweat and tears into making it.
"To actually finally have everybody paying attention this time is very exciting."
He says nothing on the album is similar to Blurred Lines, but only because nothing could be.
"It just does not exist," he says.
"Anything you try to do to sound like Blurred Lines would be such a blatant bad sequel, like Transformers 2."
What it does have, he says, is a lot of fun music, particularly compared to his more serious-sounding work in the past.
When asked about the change of tone, Thicke again answers with refreshing honesty.
"I actually wanted someone to buy it this time."
With the platinum success of the Blurred Lines single, it would appear Thicke's plan worked.
-AAP