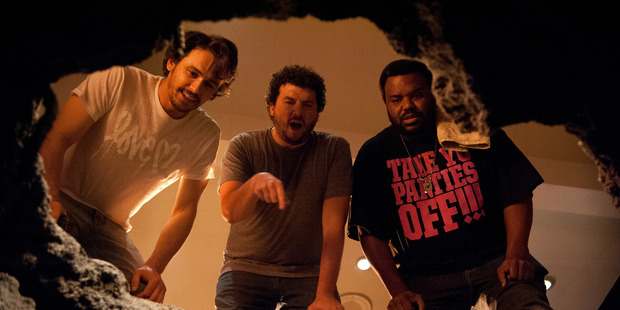 Followers of Seth Rogen's career will know his past characters' seemingly superhuman capacity for embarrassment has served him well. Heck, the funny dude's last film was a road movie - with Barbra Streisand! As his mom! Top that! He has!
This time, though he's gone, for a full humiliation H-bomb and it's one which doesn't just catch him in its blast zone. He and co-director Evan Goldberg have dragged in many of Rogen's Hollywood buds and former co-stars and to play themselves - or magnified needy, egotistical, insecure, over-sexed, Hollywood-hopeless versions of themselves - who are about to find out their partying days are over.
Why? Because the world has just ended and the apocalypse just has no respect for celebrity.
The result is a movie of fitful pace, often puerile grossness, and crossing-the-line subject matter, all set to a vision of the end of days which suggests Constantine done as a Tenacious D video.
But heck, it's snortingly funny, mainly for how the core cast of surviving mates - mostly Judd Apatow alumni - are transformed from life-of-the-party into a collective bumbling mess. They aren't coping very well with the fact that God, who has seemingly invoked The Rapture, sucking all the good folk up to heaven, has left them off the guest list.
The setting is a house-warming at Franco's where Rogen has dragged his Canadian bud, Jay Baruchel, a man wholly impressed by Hollywood but who becomes the whiney voice of reason when it all goes to pot. Though this being a Rogen movie, of course, it has all gone to pot quite early and one of the film's more creative in-jokes concerns an impossible sequel to Rogen and Franco's marijuana-powered Pineapple Express.
Elsewhere, Danny McBride as himself comes across as an even more of a jerk than the ones he plays in the movies while Jonah Hill's painfully nice persona seems to be hiding a superiority complex stemming from his Moneyball Oscar nomination.
And while the seemingly improvised riffing between the famous five does have its flat moments, or ones that make you wish some envelopes had remained unpushed (like the gag involving Emma Watson, as in the actual Emma Watson, though the Michael Cera one is terrific), This is the End emerges as a mad, bad hoot of a film.
Stars: 4/5
Cast: Seth Rogen, James Franco, Jay Baruchel, Jonah Hill, Danny McBride
Director: Evan Goldberg, Seth Rogen
Rating: (violence, offensive language, drug use and sexual material)
Running time: 107 mins
Verdict: High times in the end times
- TimeOut