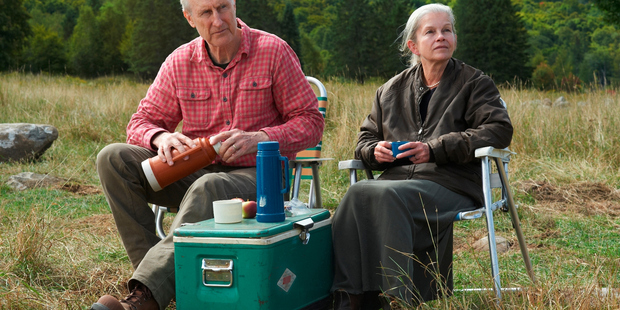 In the same family as Far From Her and Amour, Still Mine is an evenly paced and restrained drama about a couple dealing with the onset of Alzheimer's.
Based on a true story, Still Mine is about elderly couple Craig and Irene Morrison, small-time farmers who have lived their lives happily in Canada's New Brunswick province. Recently though, Irene has become forgetful, and though it's clear to Craig that she is not well, it's a subject he refuses to discuss with his children or their family doctor.
When it becomes clear Irene can no longer safely live in their ramshackle farmhouse, Craig, at 89, decides to build a simpler, more suitable house for them to live in. He plans to cut down his own timber and use the same high quality, sustainable techniques his father, a shipbuilder, had taught him.
What Craig doesn't anticipate are the strict local building codes and bureaucratic officials who police them and, just as Irene's health begins to decline, he is faced with a "stop work" order.
This is essentially a film about devotion and how far one stubborn man will go to make sure he can remain with the woman he loves. The building of the house is obviously a powerful symbol, but it also allows director Michael McGowan to highlight bureaucracy gone mad and contrast old, handcrafted traditions with the more modern approach.
Cromwell is captivating, convincing us he has lived all 89 years of Craig's life with wry humour and by refusing to act his age. Genevieve Bujold's Irene is child-like and wide-eyed, and in those eyes you can see the fear and acknowledgement that something isn't right. Together, they move you to tears with a genuine and touching story of love, devotion and determination.
Stars: 4/5
Cast: James Cromwell, Genevieve Bujold, Campbell Scott
Director: Michael McGowan
Running time: 103 mins
Rating: PG (nudity and coarse language)
Verdict: A slow, but touching, genuine love story
- TimeOut