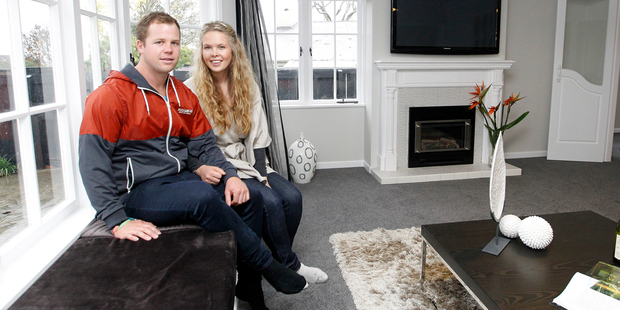 Former contestants of The Block Sarah and Richard have some advice for anyone considering entering the hit television show: "Don't score the others a one".
Richard Boobyer and his partner Sarah Adams have finished renovating their first home and second do-up after last year's effort on The Block, which netted them $64,000 on auction night at the conclusion of the show.
Their four-bedroom, two-bathroom Queenwood, Hamilton, home, which has a CV of $500,000, was listed on the market on Friday and has already garnered interest, with more than 4000 views on Trade Me and at two open homes over the weekend.
After several long weekends of renovations that started before filming began last year, they are looking at buying another home to renovate in Hamilton.
"This will make a good home for someone, it's almost too nice for us. We are kind of used to sleeping on the floor with renovations going on around us," said Mr Boobyer.
The self-employed landscaper and Ms Adams, a marketing assistant with the Waikato Rugby Union, gained notoriety last year by strategically scoring their fellow contestants a one out of 10 after a challenge.
It's something they regret and when asked what advice they would give to other contestants, Mr Boobyer said: "Yep, don't score the others a one.
"We did that because we thought that was how the others would honestly score us. If we could go back and change things we would, but hindsight is a good thing."
Ms Adams said Ben and Libby Crawford's meticulous planning was the difference and the key to them winning the first series.
"They had a good plan right from the start, whereas we kind of went in from week to week."
She said contestants would be dealing with a lack of sleep which compounded over the weeks and high levels of stress that occasionally worsened when they had to drop tools and leave the set to complete challenges.
There were also some cold nights ahead as contestants slept with little cover around them through winter.
"But you keep things in perspective, it's 10 weeks within the confines of The Block and it's an amazing experience."
The couple remain in contact with the other contestants.
Taranaki couple Ginny Death and Rhys Wineera bought and renovated a three double-bedroom weatherboard home in Frankleigh Park, New Plymouth.
Rachel Rasch and Tyson Hill announced the arrival of a little girl last month while the winners run their Libby and Ben graphic design, marketing and branding business.
MediaWorks publicity manager Rachel Lorimer said casting for the second season of the show had closed and four couples, from more than 1000 entries, had been selected.