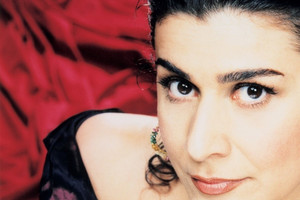 Bellini's Norma is an extraordinary piece. A high point in the bel canto tradition, the 1831 opera is as important in the historical trajectory of its century as the seemingly weightier creations of Beethoven and Wagner.
Politically, Bellini's Druidess is a sister to Beethoven's Leonore, driven to an even greater sacrifice, in times of Roman oppression.
Too long considered soprano territory, mezzo Cecilia Bartoli has moved in and recorded it, using the new authoritative edition. Treated with such respect, Bellini's music gleams anew.
As with other Bartoli productions, Norma stands out on the shelf; it is a book rather than a mere CD, handsomely bound, 1.5cm in width. Inside, the diva's own essay, "A Norm for Norma?", puts the opera in the context of almost two centuries of performance.
The first thing you hear is the Orchestra La Scintilla under Giovanni Antonini and, after a few chords, there is no switching off. They deliver the music with knife-edge dynamics and a rhythmic virtuosity that runs from the gorgeously pliant to marches that will have you doing your own drill parade in the lounge.
Best of all is the subtlety of bow on gut string, along with the often visceral thrust of natural brass instruments.
The male leads - John Osborn as the Roman, Pollione, and Michele Pertusi as the Druid Oroveso - convey a physicality that does not exclude sexiness. Osborn's encounter with Korean soprano Sumi Jo's Adalgisa is a suave and somewhat unsettling seduction.
Sumi Jo is an emotionally vulnerable Adalgisa, particularly expressive in recitative and the perfect partner for Bartoli's Norma in their many duets.
Bartoli is, as ever, a force of nature. Misdirected, her energy could wreak havoc but here, she targets with Stealth precision.
In the celebrated Casta Diva, she surprises with some of her melodic diversions and enchants as she hovers around Bellini's lines like a grazing, lyrical butterfly.
She moves through shifting emotions with often terrifying immediacy - panting, whispering, chilling when she snarls "sangue" (blood) against a brassy blast - bringing all the excitement of the opera house, and this opera, chez vous.
Classic CD
Bellini: Norma (Decca)
Rating: 5/5
Verdict: "Cecilia Bartoli presents a gleaming bel canto masterpiece for our times."