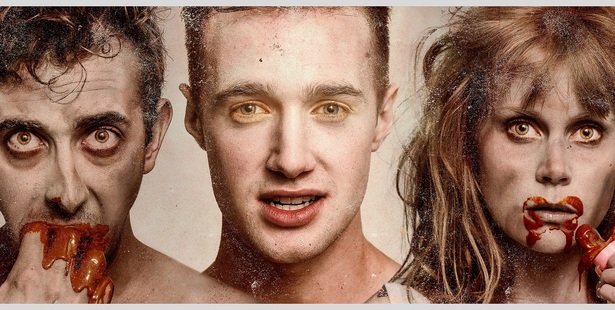 Twenty-two years after it first stormed on to the London stage, Philip Ridley's The Pitchfork Disney has been resurrected for a new audience.
Productions staged last year in London and at the Sydney Fringe Festival had Guardian theatre writer Lyn Gardner declaring it felt less like a play than a prophecy that had come of age. She should know. Gardner saw the original production, at the Bush Theatre in West London, four times.
Now, for the first time, Auckland audiences get to see Pitchfork and decide for themselves. Actor Todd Emerson says it still feels like it was written yesterday as a potent parable for our anxiety-ridden times.
Infantilised adults, sexual panic, homo-erotica, xenophobia and the simultaneous longing for but fear of connecting with others - it's all there, along with liberal helpings of chocolate (as dark as the humour), characters who mesmerise and repel, and settings that are vaguely recognisable but altered to highlight the shadows of the everyday.
Emerson says the script's dreamy, dystopian imagery stayed with him since he first read it.
"As a teenager, I'd done a lot of TV so I went to the library to look for scripts to see what I could learn. I sat down with a whole pile of them; Pitchfork was one of the ones I read and it immediately caught my attention. It was, and still is, unlike anything I had read before."
It has taken nearly a decade for Emerson's Moving Theatre Company to get the play staged in Auckland after funding shortfalls, issues with venues, and problems with cast availability. Now, with help from Q Theatre's risk-share venture Q Presents, it's about to open.
The script isn't the original version; Ridley has altered it slightly to keep pace with our changing world and a number of slightly different versions have been released, but the story and protagonists remain the same.
Twins Presley (Emerson) and Hayley (Michelle Blundell) have lived in a state of isolated, arrested development since the mysterious disappearance of their parents some years earlier. Cocooned in their London flat, they gorge themselves on chocolate and barbiturates while telling tales of what they imagine life would be like beyond the front door of their ramshackle home. It's not a pretty picture; writer Ridley was a child of the Cold War so images of nuclear obliteration linger large. The narrative takes a turn for the even more disturbing when menacing nightclub entertainer Cosmo Disney (Leon Wadham) and his masked accomplice (Sam Snedden) pay an unexpected visit.
Emerson reckons it's a play about the nature of fear and the loss of innocence, but whatever its themes, he says it's a good thing that it's only now he's getting to act in it because he can bring more maturity and clarity to the role.
He is also getting to work with director Sophie Roberts. The two discovered a mutual interest in The Pitchfork Disney about four years ago and have been planning their version since. Roberts, whose work with Silo Theatre on the likes of I Love You, Bro and The Pride has earned her much praise, says it is just the sort of story she likes: a dark, Gothic fairy tale that forces audiences to think.
"There are quite often projects you try to get up over a long period of time and, by the time it happens, you're not that interested any more because it doesn't resonate with you in the same way, but I think with Pitchfork I've gotten more interested in the writing and the complexity of it."
Roberts has worked closely with award-winning theatre designer Daniel Williams to transform the Q Loft space. They're using Loft's glorious Art Deco windows in the set and, says Roberts, she wants audiences to feel part of the play as soon as they walk through the theatre doors.


Performance
What: The Pitchfork Disney
Where and when: Q Loft, June 20-29