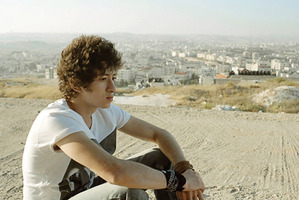 The idea of babies switched at birth has always been a staple of dramatic fiction, perhaps because it is no rare occurrence. Shakespeare used it in The Comedy of Errors and W.S. Gilbert used it twice, in The Gondoliers and HMS Pinafore.
Here it is used in the more serious setting of Israel and the Occupied Territories in a French-Israeli co-production whose more contrived and formulaic elements are redeemed by some solid and heartfelt performances.
Orith (Devos), a French-born doctor, married to Alon (Elbe), a senior officer in the Israeli military, is stunned when a routine blood test reveals their son Joseph (Sitruk) cannot possibly be genetically related to them. Further investigation revealshe was accidentally switched at birth with Yassin (Dehbi), who has been raised the son of a West Bank Palestinian couple Leila (Omari) and Said (Natour).
In any context, this would be hard for everyone, not least the boys, to handle. But here, the question about what it means to be someone's flesh and blood is rendered more complicated by deeply embedded notions of ethnic, religious and political identity.
In one of the most sobering scenes, a horrified and devout Joseph asks his rabbi, "Do you mean Yassin is more Jewish than I am?" and the rabbi shrugs. "That's the way it is."
The moral undercurrent of the film, of course, is that it is by no means the way it always should be. As Joseph and Yassin become the nexus of others' anxieties and projection, a father's pride and a brother's doctrinaire inflexibility become more problematic than the original error. Significantly, the mothers adjust more easily than the menfolk.
The film, competently directed, avoids a pat ending though I had the impression it was less a calculated decision than a failure of imagination. Certainly it ends abruptly. But the lack of resolution is a fair reflection of the state of play in the land that gave birth to the story.
Stars: 3.5/5
Cast: Emmanuelle Devos, Pascal Elbe, Jules Sitruk, Mehdi Dehbi, Areen Omari, Khalifa Natour, Mahmood Shalabi
Director: Lorraine Levy
Running time: 105 mins
Rating: M. Violence, offensive language, drug use. In French, Hebrew, Arabic and English, English subtitles
Verdict: Touching, potent drama.
- TimeOut