Multi-talented cast of six portray rich history of Auckland's iconic strip in 21 scenes of acting, song and dance.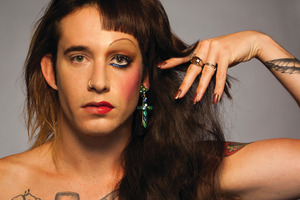 Okareka Dance Company's fast-paced gay cabaret K' Rd Strip presents a whirlwind salute to the rich history of Karangahape Rd in 21 scenes.
Hape's karanga to his brothers on the newly arrived Tainui canoe opens the show, and a haka for all who have shared the K' Rd experience closes it.
In between there are scenes of day and night life, a handful of ghosts and long-term inhabitants, and mercurial shifts of gender identity.
The six performers are multi-talented, able to sing and dance and act. They are all in fine voice for the 19 iconic Kiwi tracks. A good deal of credit must go to Jason Te Mete, the musical director as well as part of the cast, for the fine ensemble singing.
Everyone has a solo, notably Will Cooper Barling on Ding Dong, Jason Te Mete on Lost, Jamie Burgess on My House, Adam Burrell on Swing, Taiaroa Royal on Watching You, and Taane Mete on I Hope I Never.
The songs are presented rock-video style, with costumes (Elizabeth Whiting) mutating between items.
Much attention is given to the interplay between choreography (Taane Mete), the K'Rd experience and the twist these bring to the lyrics.
Mostly, the original arrangements are kept, with amendments to lyrics (especially on How Bizarre), with an instrumental backing track behind the live vocals. The a capella version of Split Enz's Dirty Creature is worth the price of the show alone.
Scattered anecdotes bring a political edge at times, and a serious sadness at others. The script was developed by Jamie Burgess, and his own delivery of anecdotes is notably disarming and beguiling. Overall direction is by Simon Coleman - all credit to him for pulling it together.


Review: K' Rd Strip - Okareka Dance Company
Where: Loft, Q Theatre, to June 15