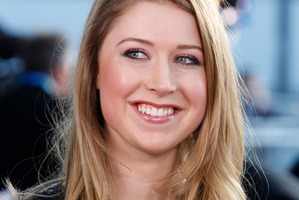 Hayley Westenra hopes to have children of her own one day when her latest album Hushabye, a collection of lullabies, will no doubt get a few plays.
But for now, the New Zealand classical singer is focused on the impending arrival of the royal baby, for whom she has delivered a specially-commissioned lullaby, Sleep On.
Written by British composer Paul Mealor, who penned a piece for the royal wedding, and lyricist Brendan Graham, the song required Westenra to imagine herself in the shoes of mum-to-be Kate Middleton.
"Brendan explained to me that when he wrote the lyrics he was thinking of the child's mother standing right over the cradle so that's how I sang them," says Westenra.
"It's a huge honour to be part of the track and put my voice onto something that will be around for some time. Music is a really wonderful gift and hopefully the little one will appreciate it."
Over five albums, Westenra has developed a reputation as something of a sooth-sayer when it comes to calming children, her tones known to put even the most restless cot botherers into a deep sleep.
She could be the first musician the royal baby ever listens to and as the top selling classical artist of this century, is confident the child will be won over by her dulcet tones.
"I've been told that my voice does have soothing qualities," she laughs.
"I have a pure sounding voice, which has apparently helped a lot of parents get their children settled, so I had faith I was up to the challenge."
Yet, the 26-year-old was determined not to make a "twee" album, insisting that Hushabye should be a collection appreciated by listeners of all ages.
As well as versions of classic lullabies, such as Goodnight My Angel and Twinkle Twinkle, Westenra covered a few quirky tracks, including her cover of Dream A Little Dream by The Mamas And The Papas and Go To Sleep You Little Baby, from the film Oh Brother Where Art Thou.
While the album may be easy listening, it was not a doddle to make.
"It was a real challenge because I've never made an album where there's one theme running through it or one destination in mind," says Westenra.
"This one is all about offering that soothing experience at the end of the day, some respite from the daily grind, so it was important to find exactly the right mood and style."
Her personal highlight was taking a fresh twist on Twinkle Twinkle, after discovering the song contains seven verses she never realised existed, and creating something that one day will make motherhood that little bit easier.
"I've always wanted kids so God willing I'll have some of my own one day," she says.
"It'll be nice to have something to play them."
* Hushabye is out on June 14.
- AAP