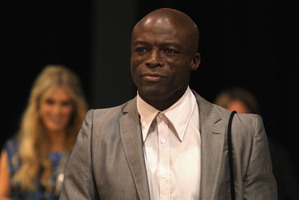 Television singing coach Seal has made a sudden about-face and apologised for a Twitter outburst aimed at the media and a Sydney hotel.
The British soul singer fired off a series of angry tweets yesterday morning on media coverage of a drug raid on the room of fellow The Voice coach Joel Madden.
In his Twitter tirade Seal said Madden was meeting a cancer patient when the hotel sent police to his room, and that the US rocker was being trashed in the media for "having a joint".
But the posts were quickly deleted yesterday and soon replaced with a fresh series of tweets.
"I want to apologise for my rant earlier. Joel is one of my best friends and I was really hurting for him," Seal tweeted.
"I want to say I have loved being in Australia, I've loved working on The Voice and with an incredibly talented group of Australian artists.
"It's been almost 11 weeks away from my kids and me saying 'I can't wait to go home' was me missing being home with them."
Police raided Madden's hotel room at The Star hotel and casino in Sydney on Sunday after a cleaner found a small amount of marijuana.
The Good Charlotte frontman said he had not been charged.
Seal's original tweet read: "... Shame one (sic) the Star ... you ask him to meet n greet a cancer victim in your hotel then send police to his room?? Nice very classy ... keep it up Judas. I'm done here. can't wait to go home."
- AAP