Five TV shows that will keep couch potatoes glued to their seats over the coming week.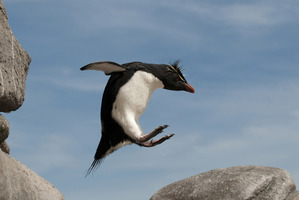 Pick of the week: PENGUINS - SPY IN THE HUDDLE
This new documentary is just like Happy Feet, only real life and minus the musical bits. Although, the soundtrack to this three-part series - from the makers of Polar Bear: Spy on the Ice and Tiger: Spy in the Jungle - sure gets things rockin' along, especially when the poor old rockhopper penguins are taking their lives in their own flippers to get ashore along the treacherous and rocky coastline of the Falkland Islands.
"But," says narrator David Tennant, "they're tough, irrepressible characters and never give up."
Similar to the past Spy series, the spy cams are in full effect. This time round, however, PenguinCam takes things to a whole new and more intimate level. So, as the rockhoppers are coming ashore there is a PenguinCam in the water as they crash and bash into the rocks, and then another located on the shore to record the relief on their cute, battle-hardened faces as they make it to dry land.
Meanwhile, down at the emperor penguins' camp in Antarctica, you get a penguin chick's eye-view of what it's like nestling underneath "nature's most devoted parent".
Then there are the humboldt penguins - one of the lesser known of the 17 species of penguin - that have to waddle their way through a minefield of grumpy and snappy sea lions as they nest in the Atacama Desert on the coast of Peru.
It's educational, entertaining and, quite often, funny stuff. And as Tennant says: "Behind their feisty charm lies an amazing character."
The action is caught on 50 customised cameras that are made into versions of the penguins, their chicks and even eggs. So realistic are the cameras that one of the emperor penguins apparently fell in love with a PenguinCam during filming.
Over the course of the series, it looks at the extreme survival tactics that the birds endure over the course of the year they are followed.
When: Tuesday, 8.30pm
Where: TV One
What: A year in the life of penguins.
Magic pick: DYNAMO: MAGICIAN IMPOSSIBLE
Meet the amazing Dynamo. Well, on stage he is, because in reality the man who is touted as Britain's most exciting magician is really just plain old Steven Frayne from Bradford.
However, his illusions, like transforming snow into diamonds, which is very much in keeping with his hip-hop inspired performances, are anything but ordinary. And now he counts chaps like Chris Martin of Coldplay, Ian Brown of the Stone Roses and sports stars such as Rio Ferdinand among his fans.
Rather than a traditional old-school magic show, such as the flashy flamboyance of David Copperfield, Dynamo is a fly on the wall-style documentary series that follows Frayne as he goes about his business of pulling off incredible stunts beyond the realms of possibility.
When: Tuesday, 7.30pm
Where: TV One
What: Be amazed.
Crime pick: MIDSOMER MURDERS
New Zealand actress Kerry Fox guest stars in the new season of Midsomer Murders, alongside Neil Dudgeon as DCI Barnaby and Jason Hughes as DS Jones. They are investigating a series of creepy deaths among the DeQuetteville family at their stately Gothic estate. Fox plays Betty DeQuetteville, a New Zealander and former estate manager who married into the family, and is seen as lower class by the rest of the family. Barnaby and Jones are called in when Bentham DeQuetteville falls to his death from a roof after seeing a headless horseman. Though his family don't seem too cut up and are more worried about planning their forthcoming Civil War battle re-enactment out in the grounds. As the detectives try to find out who the headless horseman ghost was they start to uncover some shocking secrets about the family.
When: Sunday, 8.35pm
Where: Prime
What: Solving a series of ghostly deaths.
Drama pick: RESTLESS
This two-part BBC mini-series is based on William Boyd's bestselling spy novel which revolves around the story of Sally Gilmartin, who is in fact Eva Delectorskaya, a World War II spy for the British Secret Service who has been on the run for 30 years.
It stars veteran English actress Charlotte Rampling as older Eva, Hayley Atwell (The Duchess) as the war-time Eva, and Michelle Dockery (Downton Abbey) as her daughter Ruth, who is taken unawares by her mother's revelation.
The first episode starts in the mid 70s, but then goes back in time to Paris in 1939 where young Eva meets spymaster (and soon to be lover) Lucas Romer (played by Rufus Sewell, last seen here in Parade's End), who enlists her to work for him as the outbreak of war is imminent.
When: Mondays, 8.30pm
Where: SoHo
What: The spying game.
Nature pick: PRIME PRESENTS: NEW ZEALAND FROM ABOVE
This five-part series is part-history lesson, part-documentary, as well as a mighty fine advertisement for tourism in New Zealand as it sets off on an aerial journey of the country starting in remote Fiordland National Park. It's also got some rather, er, random facts on offer. For instance, did you know if a map of New Zealand was laid over Europe "it would stretch from the Sahara Desert to Stuttgart"? Despite a few clumsy moments like this, there is no denying the spectacular vistas and aerial views of everything from the fiords and vineyards of the South Island to the volcanic plateau and the urban sprawl of Auckland. And, along with the beautifully shot footage, things do come down to earth on occasion for a closer look at the natural beauty and to talk to those who live in the places down below.
When: Monday, 8.30pm
Where: Prime
What: Taking flight over Aotearoa.
- TimeOut