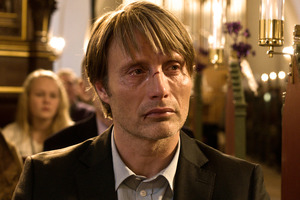 A crucial implausibility does not entirely derail this tight and tidy drama by the director of 1998's landmark family drama Festen (The Celebration).
The very busy Mikkelsen (who won Cannes' best actor award for this performance) plays Lucas, a kindergarten teacher in a small, tight-knit village, who is accused of the sexual abuse of one of his charges.
The hysterical reaction - the film is set in the present day - is both overdrawn and overplayed and, assuming you think Peter Ellis is innocent, you may find it as irritating as I did.
That aside, Vinterberg shows an assured touch as he depicts the slow collapse of Lucas' world.
The film establishes him as part of a group of hunting (and drinking) buddies that falls apart under the strain (the "victim" is his best mate's daughter) and the script, which Vinterberg co-wrote, keeps piling on the pressure. He's dealing with a fractious ex-wife who is making access to his teenage son difficult; the supermarket bans him.
The film has much in common with Festen, which was about how the supposedly secure bosom of the family can be a nest of vipers.
Vinterberg has one character say late in the film that "the world is full of evil, but if we hold on to each other it goes away", but there's a sour dramatic irony to the sentence, given what has happened and is happening.
Mikkelsen, who cut his acting teeth on the powerful domestic dramas of Susanne Bier, turns in a heartrending performance here, tender, vulnerable and equal parts incredulity, rage and despair. Wedderkopp, in scenes deftly edited to protect her, is artlessly sweet.
The central metaphor of the title is very skilfully deployed: Lucas is, in a sense, the villagers' quarry, but a father teaching his son to hunt is shown to be an important rite of passage, too, which embodies notions of honour and integrity. And it allows Vinterberg to set up one hell of a final scene, a chilling reminder that once suspicion has hardened into fact, there is no chipping it away.
Stars: 3.5/5
Cast: Mads Mikkelsen, Thomas Bo Larsen, Lasse Fogelstrom, Annika Wedderkopp
Director: Thomas Vinterberg
Running time: 111 mins
Rating: R16 (violence, sex scenes). In Danish with English subtitles
Verdict: Classy and finely acted, if slightly overwrought
- TimeOut