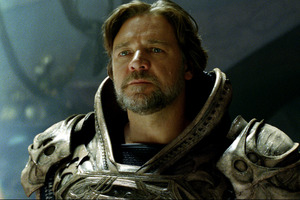 Russell Crowe wasn't a big Superman fan before being cast as his dad. He was, however, a big fan of Marlon Brando, who played the Man of Steel's father in the 1978 movie starring Christopher Reeve.
"I didn't even know what the name of Superman's dad was until the script arrived. I knew vaguely that Brando had played him, and I'd seen stills of that sparkly costume," Crowe laughs. "But I'd never watched any of the movies. The only connection I had as a kid was the TV show. Growing up in Australia at that time meant you had two options: Superman or I Love Lucy.
"To be honest, I wasn't inclined to do a comic book movie, but I really connected with this character. I'm a dad and the sorts of things Jor-El was faced with, particularly in the beginning, with that ultimate sacrifice of having to send his son to Earth, I thought that was intriguing."
A few years after Brando's death in 2004, one of Brando's close friends contacted Crowe - the acting great had entrusted her to find Crowe and present him with a book of poetry, There Are Men Too Gentle to Live Among Wolves, by American author James Kavanaugh.
Tucked inside the book was another surprise - a note penned by Brando.
"Along with it came a little letter about how he liked watching certain films of mine," Crowe recalls. "It really touched me when I received that because growing up as a young actor, his performances were very affecting to me.
"You can take what you get out of doing amateur theatre or whatever, but until you see On the Waterfront or A Streetcar Named Desire, you kind of realise something did shift greatly in cinema performance."
Crowe gets to impart plenty of interplanetary paternal advice to his screen son in the new movie. It's not the first time he's played mentor to Henry Cavill, whom he first met as a teenage extra on Crowe's 2000 movie Proof of Life.
"He'd ask me about acting and was very serious. I think that touched me a bit and I knew in that moment I should talk to him straight. I suppose it's a matter of recognising somebody from the same tribe," he says. "I had been that kid many times when I asked a person something and really needed an honest answer.
"I told him it was a difficult gig and that nobody would do him any favours but that no matter how ludicrous he thought his dreams might be, if they were real, he should pursue them."
Crowe sent a care package when he returned to Australia after the Proof of Life shoot. "Henry was in boarding school, and I imagined that if you're in those circumstances, receiving a package in the mail must be one of the greatest things in life. So, I sent him a Wallabies jersey, which is always good for an Englishman, an All Blacks jersey, some Vegemite, and a photograph from Gladiator, and signed it, 'Dear Henry. The journey of a thousand miles begins with a single step'."
Crowe's eventual reunion with Cavill wasn't what he expected. "When we started at the gym together, month after month he didn't say boo about that whole experience. Didn't say a word about how we met," he says, "And it was nagging at me all the time. Then one day out of the blue, Henry repeated the words back to me, 'If you become an actor, they treat you like shit, but they pay you pretty well'. Crowe laughs. "That is unmistakably my level of comedy."
Crowe's Man of Steel role has him in a cosmic conflict with Krypton rebel leader General Zod, but he had slightly more intimate concerns. "My biggest battle was with some of the costumes I had to wear. They were very restrictive. They looked slick but it was a battle to move.
"I will say that Zack Snyder never mentioned anything about the spandex before we did the deal," he laughs. "I had to wear four layers of spandex. It put me into a mild panic."
- TimeOut, additional reporting AAP