Bringing their psychedelic sound Downunder is a dream come true for the Black Angels, writes Scott Kara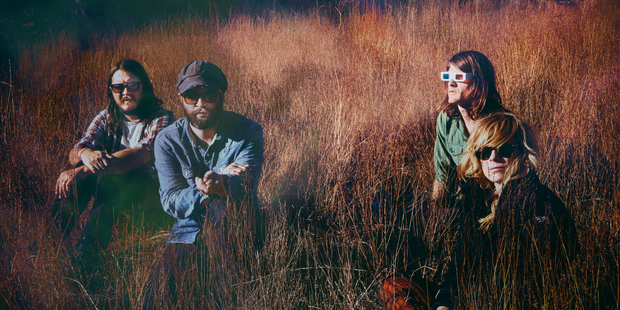 If their past albums are anything to go by, Texan psych-rock quartet the Black Angels live in a dark, cold world. Take the unrelenting gloom of Vikings and the searing intensity of You in Colour from 2008's Directions to See a Ghost.
It's harrowing, yet somehow enjoyable, stuff.
However, the title of their fourth album, Indigo Meadow, released last month, is telling, because the Black Angels have taken on a more uplifting, bright, and even occasionally poppy, sound; though there are still some volatile sonic moments on the album, such as Twisted Light, a sick Butthole Surfers-style pop song, and the delicious jagged fuzz of War on Holiday.
"It's just a different style and sound for our band and a document of where we were at at that moment," says singer, organist and drone machine player Alex Maas of the album that sees the band focus on songwriting rather than scorching, hard psychedelic noise. "We can make a record that could sound like love. Or we could take it to a darker place, and we've done that before, we've gone there, and the world has a bittersweet thing to it.
It's scary, it's dangerous, it's also beautiful and I think that's where this record is coming from."
That mix comes through on songs such as Don't Play With Guns, which has a groove similar to the Jesus and Mary Chain's Blues From a Gun, and the 60s psychedelic pop stomp of The Day, a song that sticks out as most different from what they have done in the past.
"I like songs that take you on a journey, but in a short amount of time because I'm not the kind of person who wants to listen to 18-minute songs every time I get into the car," says Maas.
"I'd rather listen to a two-minute song by Buddy Holly 20 times over because it's such a good song."
Maas is a lovely chap who, although he mumbles a little, is thoughtful and modest.
The band is heading to New Zealand for the first time to play the Studio on Thursday, June 20 (and in Wellington the night before), which is a "dream come true" for them.
"We're just stoked that people who live so far away, and live in such a beautiful place, care about our music at all," Maas says with a chuckle.
The Black Angels - the other members are Christian Bland (guitar, drone machine, organ), Kyle Hunt (keyboards, bass, guitar); Stephanie Bailey (drums) - formed in Austin, Texas, in 2004, united by a love of bands ranging from the Zombies and 13th Floor Elevators (founder Roky Erickson is one of Maas' heroes) through to contemporary psychedelic bands such as the Warlocks (whose former drummer Bob Mustachio now does the Black Angels' live show visuals and projections) and Black Rebel Motorcycle Club.
"And we're still together because our communication has enabled us to work through our problems and our communication has allowed us to figure out what we want to do and where we want to be; and what we want to do is play music as long as we can."
These days the Black Angels are at the forefront of the psych music scene, and started the Austin Psych Fest, which in the past six years has grown from a line-up of 12 bands to 65 this year.
"This was the first year we had camping," says Maas, still sounding amazed. "I don't know why we started the festival. I liken it to having a child. Sometimes you don't know why you want to have a child and sometimes it happens by accident," he laughs.
"But when you have this child you start nurturing it and start teaching it things and then the second and third years it starts developing a life of its own and it starts talking back at you."
If anything, says Maas, they probably established the festival out of pure greed - and wanting to get a line-up of their favourite psych rock acts together to play in their hometown, all at the same time. "Let's invite them to play over one weekend and we wouldn't have to go anywhere to watch them all play," he laughs.
"That's how the festival started. And the idea was to show off what was happening in this [psych music] community.
"The festival is growing directly in unison with the genre, which is interesting. It's getting bigger, and we've asked a band like Tame Impala to play, and they haven't agreed to play yet, and they might be too big for the festival, but it's growing," he says excitedly.
Like-minded festivals are springing up around the world, from South Africa to San Francisco.
"It's great for the genre. We're not jealous of other bands, and everybody is willing to help each other out and that's why it's grown so much - because there are good vibrations surrounding it," Maas says.
Who: The Black Angels
Line-up: Alex Maas (vocals, organ, drone machine); Christian Bland (guitar, drone machine, organ); Kyle Hunt (keyboards, percussion, bass, guitar); Stephanie Bailey (drums, percussion)
Where and when: Bar Bodega, Wellington, Wednesday, June 19; Studio, K Rd, Auckland, Thursday, June 20
New albums: Indigo Meadow, out now
Past albums: Passover (2006); Directions to See a Ghost (2008); Phosphene Dream (2010)
- TimeOut