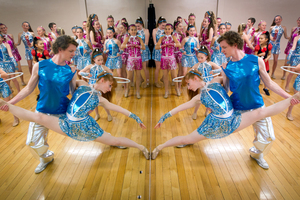 Young dancer Ava McKenzie was almost speechless when she found out she will be heading to Disneyland to perform in the Main St Parade.
"I'm so excited," was all the 9-year-old could manage when the Herald spoke with her yesterday.
The Auckland schoolgirl is one of 40 dancers aged between 7 and 20 who will fly to Los Angeles in December to take part in the international dance showcase after the Victoria Phillips Dance Academy competition troupe sent in a successful audition tape to compete in the parade.
The evening performance in Main St will be an extravaganza of bands, elaborate floats, Disney characters and dancers, much to the delight of the Glen Innes-based troupe.
Claire Rowley and Tim Hoskins are also part of the team and have been dancing for over a decade. Ms Rowley says the workshops will be a highlight - learning from world-class dancers.
As well as the Main St parade, the dancers will perform at Universal Studios and attend several workshops including The Edge Performing Art Workshop, the most celebrated in Los Angeles.
Dance academy principal Corinne Yee says fundraising events are planned to help pay for costumes and the trip. "It's more of a stretch for some families than others so it is important we reduce the financial burden."
She says the girls are unbelievably excited and are working hard on their dance routines.