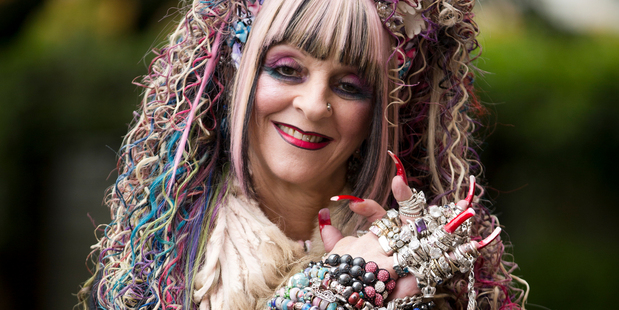 A wet Sunday can't dampen the hope rising in the air above a queue that runs along the length of the hall at Epsom Girls' Grammar School in Auckland.
About 300 more entrants are inside, filling in forms to audition for this year's NZ's Got Talent TV show.
Those who have their contestant numbers gather outside a classroom, tuning their voices and instruments before it's their turn.
Lynnette Karam-Whalley, of Te Awamutu, shows a little sign of stage nerves as she enters the room to sing.
A winner and a judge of many hairdressing competitions, she started singing at country and western clubs only 18 months ago.
She smiles at the auditioning team of producer Suzanne Lynch, executive producer Bettina Hollings and line producer Loretta Jacobs, who have by now seen 5000 acts in a nationwide tour.
"My song is Runaway Little Tears - a Connie Smith number," she says.
"Wow, look at your long nails, your bracelets," says Hollings.
"I never take them off," replies the singer, touching the dozens of rings and charm bracelets up to her elbows.
About her colourful long hair, she says: "I look like this every day."
The team's manner is one of encouragement.
There is no "yes" or "no", because performers will be told next month after film footage is rated.
Although the entry form says to expect less than two minutes to audition and warns you may be stopped, Karam-Whalley feels she got a fair hearing.
"It went all right. I was off key at one stage but never mind. It was okay.
"You can only get better. You feel more confident every time you go on stage."
She had already been in the auditions for the Gore Golden Guitar Awards, along with 761 others.
"I didn't come through to the finals; there was amazing talent, same as here."
Later, over at the hall, the dancing acts start their auditions.
A group of 10 called EYP (Elite Youth Platform) gets loud applause.
Brylee Mills, 17, says her goal is to become a successful professional dancer.
The loss of her left arm in a car accident at 6 years old did not stop her taking part in ballet and contemporary dance competitions around New Zealand.
She is hoping to win again with this group of mostly Western Springs College students.
The prizemoney would help her to pay for next year's study at a Sydney school of professional dance.
"Everyone has been working so hard for three weeks," Mills says.
Yesterday was the last day of the auditions, with the number matching that for last year's show, which drew 930,000 viewers for the December grand final.
The winner, singer Clara Van Wel of Blenheim, was aged 15.
After 12 weeks of performances, she won $100,000, a Sony recording contract and a Toyota Corolla.
Judges for the 2013 show will be Rachel Hunter, Jason Kerrison and Cris Judd.