Thank you, Sir Michael Hill, for an inspirational competition that brings the musical world to New Zealand.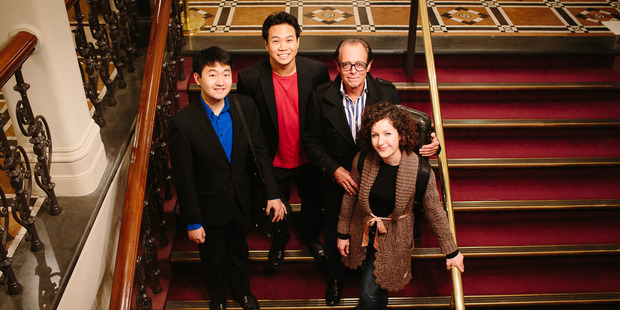 Every two years, the final reckoning of the Michael Hill International Violin Competition is an appreciated highlight of our winter cultural calendar.
On Saturday, banner portraits of the 18 contestants were unfurled in a well-filled Town Hall for the triple-decker concerto programme to decide this year's winner.
Boson Mo, eventually placed third, had chosen Prokofiev. The composer's edgy Second Concerto, deftly woven by Mo around a well-primed Auckland Philharmonia Orchestra under Garry Walker, added to the atmosphere of anticipation.
Fellow Canadian Nikki Chooi enthralled in what would be a winning Sibelius, with blistering passion erupting from its ethereal opening pages.
Runner-up Sarah Christian, from Germany, tackled Brahms, with a particularly tender voice in the expansive Adagio.
Executive director Anne Rodda was a cool and elegantly coutured MC.
Even the sometimes prosaic Arts Minister Christopher Finlayson touched us with a tale of the redoubtable Michael Balling venturing with his viola into wild Urewera country in the 1890s.
The smaller awards revealed the depth and scope of this event.
Benjamin Baker and James Dong received Developmental Prizes, while Chooi's was named the best rendition of Jack Body's test piece, Caravan - well worth checking out online.
Christian's fiery Thursday night Mendelssohn earned a chamber music prize, while Natalie Lin took away the audience award.
There was also the unpredictable when Sir Michael Hill inadvertently gendered the yet-to-be-announced winner.
Red-faced and flustered, the good man let forth, in the most gentlemanly yet forceful manner, with a relatively mild expletive ... and the show went on.
But can we ever thank Sir Michael enough? In an age that so values recognition beyond these shores, he has achieved just that. However, we don't need to go to Venice or wherever the current Biennale might be; he has brought the world to us, and the world knows about it.
Throughout the evening, there were jests about the clash with Eden Park's test match, relayed on Sky TV. Would that we had a half-decent arts channel that might do the same for this inspirational concert.
Classical music
What: Michael Hill International Violin Competition Final Round
Where: Auckland Town Hall
When: Saturday