Modern makeover of popular Australian drama from the 1980s is sure to build a captive audience.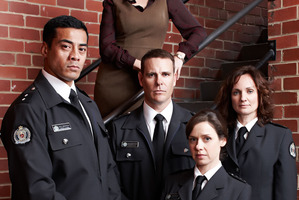 Prison drama Wentworth will ooze quality because the cast was not pressured into making an instant ratings hit, says New Zealand-born actor Aaron Jeffery.
While the show screens here on mainstream TV2 starting tonight, the first series was made in Australia for subscription channel SoHo - and Jeffrey says it made for an entirely different experience compared to working for a commercial network driven by ratings.
The McLeod's Daughter star said Wentworth will be judged on the quality of its storylines and acting, which means everyone involved has taken ownership of its success or failure.
"The commercial networks have been quick in the past to pull something or change the timeslot if it's not rating after three or four episodes," says Jeffery.
"They understand it sometimes takes a series or two, and it has done with every show I have done for the last 15 or 20 years, before people get into the swing of it."
Wentworth, which also stars fellow Kiwis Danielle Cormack as lead character Bea Smith and Robbie Magasiva as prison guard Will Jackson, is a "reimagining" of the 1980s Australian-made international cult hit Prisoner.
Last week it was announced the show had got the go ahead for a second season. The characters are based on the former series and it is set within the dark grey walls of the same fictional detention facility, Wentworth Correctional Centre. But that's where the similarities pretty much end.
Wentworth is a contemporary resurrection of Prisoner and the inmates are far more representative of multicultural Australia - and it's far racier and violent than its predecessor.
There are subtle references to the original series, which diehard fans will notice, but no former stars return in cameo roles.
Jeffrey, who plays prison guard Matthew Fletcher, says the storylines are fast-paced and action packed.
The 10-episode first series was filmed in an abandoned pharmaceutical factory south of Melbourne.
"We haven't paid a lot of attention to the old show because this is different," says Jeffery.
"If you're a diehard Prisoner fan you have to keep an open mind.
"There are lots of twists and turns and it's like a freight train without brakes.
"It's now so it is very contemporary."
Jeffery says his character's storyline has little resemblance to the original Matthew "Jim" Fletcher in Prisoner, who was played by Gerard Maguire.
Jeffery used to watch Prisoner when growing up in New Zealand, as did a number of the older cast and crew members, but the younger stars will not be so acquainted with the series.
"The character [he plays] is very complex and I like that. I like the fact it's a prison drama and we are attempting a re-imagining of an iconic show.
"It will be challenging for diehard fans [to watch], but it will polarise people.
"They will either love it or they won't and if they're a diehard Prisoner we hope they come round and jump on Wentworth."
The series got the thumbs up from Prisoner actress Val Lehman, who played top dog Bea Smith.
She and other former "inmates" and "screws" from the old show got a special preview screening of Wentworth.
They chuckled at some of the subtle references to their former series and laughed at some of the lines.
"It's modern, it's exciting, and it's risk-taking," says Lehman.
"I think it's going to be a huge favourite and my character is extremely multi-faceted, so there's nowhere Danielle will not be able to go with it."
TV preview
What: Wentworth
When: Tonight, 9.30pm, TV2
Who: Kiwi-born actor Aaron Jeffery who plays prison guard Matthew Fletcher
- AAP