Double retirement brings the end for a great ensemble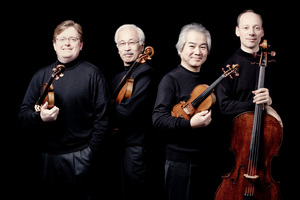 The Tokyo String Quartet's Town Hall concert next Friday is one of "a long string of goodbyes", says cellist Clive Greensmith. Australia, Korea and Japan have already been farewelled and, after eight European appearances, the group takes its final leave at Yale's Norfolk Chamber Music Festival on July 6 in a performance that will be streamed over the internet.
The Tokyo experience has been quite a slice of Greensmith's career.
"It's the longest stretch I've spent doing one particular thing, with one single instrument and the same colleagues," he laughs.
Explaining why the group is to disband with the retirement of second violinist Kikuei Ikeda and violist Kazuhide Isomura, he says:
"Timing is everything. We felt it was the most elegant way of doing it gracefully. It takes an awful lot of energy and commitment to keep what you have as a group, never mind trying to add new pieces and welcome two new members all at the same time."
The Tokyo String Quartet's many CDs are a testament to one of the great chamber music ensembles of our time.
These recordings were "very good in the beginning", says Greensmith. "We could listen to ourselves, study how we sounded and work out how we could improve."
Not all would make his personal desert island collection. A 2005 Mozart disc was "well played, but I wish there had been more flexibility and imagination", he confesses. "I find the performances just a little bit straight-laced."
Greensmith is happy with the group's latest release, pairing Dvorak's American Quartet with Smetana's From My Life.
"The atmosphere in those sessions was very good; the music not only sounds more cohesive, but there's also an individualistic spark."
While the Tokyo String Quartet is varying its programmes throughout the tour, he feels Auckland's combination of Mozart, Bartok and Brahms is one of the best. The Hoffmeister Quartet of K499 is "connoisseur's Mozart".
"Audience members approach us afterwards and ask us what key Mozart goes into in the slow movement. And the Finale has some unbelievable harmonic twists as well as various stops and starts that give wonderful opportunities for interplay between the four of us."
Bartok's Sixth Quartet is "one of our favourites".
The four men ended their New York concert with it last month, and the Hungarian composer's final quartet has special associations for the group, which has made two recordings of the complete Bartok cycle.
"There's more of a sense of looking back here than in the other five. It's nice that the opening movement has a poignant, extended viola solo for Kazuhide, who was a founding member of the group in 1969."
After interval, it will be Brahms, a fitting choice when "we've played all three of his quartets so many times," Greensmith says. Brahms' C minor Quartet is substantial and "almost gives you the feeling that it's too big for four instruments".
"There are real symphonic textures here and we can dig our bows into the strings and create the kind of sound world that is greater than just a string quartet. It's masterfully paced."
Greensmith is looking particularly forward to next week's concert and, even more so, now that he has had the chance to take part in the Borodin A major Quartet with Kiwi violinist Amalia Hall at Florida's Sarasota Festival.
"Any country that can produce such a well-put-together player as Amalia must have some great things happening in it musically."

Performance
What: Tokyo String Quartet
Where and when: Auckland Town Hall, Friday at 8pm
On disc: Tokyo String Quartet: Dvorak Smetana (Harmonia Mundi)