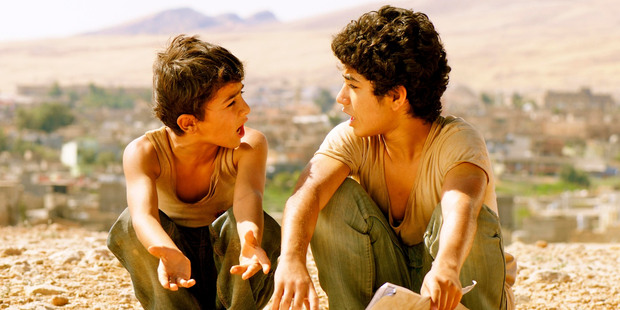 "Dear God, please let me and my brother go to America and meet Superman." So says Kurdish boy Zana (Zamand Taha), a 6-year-old living in northern Iraq in 1990, when Kurds were desperate to escape Saddam Hussein. Orphaned and homeless but full of spirit, Zana and his 10-year-old brother, Dana (Sarwar Fazi), shine shoes to buy bread and sleep on rooftops. After glimpsing a Superman movie, the urchins set out for "the big city" of America on a donkey called Michael Jackson with a map they cannot read and a homemade notebook for a passport. Along the way, Dana preserves Zana's illusions about Superman and America so that life is beautiful for now. It's a beauty reflected in the desert tones and dappled light of this visually stunning film. Bekas, which means "parentless" in Kurdish, rests on the extraordinary performances of two first-time actors and the direction of Karzan Kader, whose family fled the country when he was 6. His semi-autobiographical feature could easily have been a depressing tale about the crushing of innocence. Instead, it's a fable-like story full of warmth, heart and hope.
Stars: 4/5
Cast: Zamand Taha, Sarwal Fazil, Diya Mariwan
Directors: Karzan Kader
Rating: M
Running time: 97 mins
Bekas is out now.