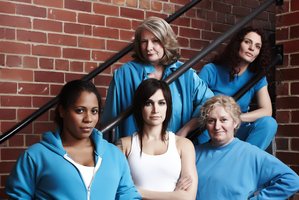 Pick of the week: WENTWORTH
Forget the drab sets, bad acting and the menacing attitude of Bea Smith from the 80s Australian soap Prisoner. Because Wentworth, which stars Kiwi actor Danielle Cormack as Bea, is the flash and often confronting new version of the original series.
Though set in the modern day, it tells the back story of Cormack's character. It also brings back characters such as Franky Doyle (Nicole da Silva), the beautiful but ruthless lesbian set on wresting the mantle of Top Dog from murderer Jacs Holt (Kris McQuade).
Then there's Lizzie Birdsworth, who, despite being convicted for manslaughter, is a prison peer worker, and Doreen Anderson, a mum whose daughter, Kaiya, lives with her inside prison. New Zealand actor Robbie Magasiva stars as prison officer Will Jackson.
In the first episode, Bea, a mother of one who has been in an abusive relationship, starts her stint behind bars in Wentworth as a remand prisoner following the attempted murder of her husband.
All she wants to do is talk to her daughter, but against her will she is drawn into Franky's obsessive desire to be Top Dog. The battle between Franky and Jacs soon escalates into a bloody riot which ends with a stabbing. It's gripping stuff. As Cormack told TimeOut last week: "It really ramps up. It takes you on a pretty fast ride and there are some interesting twists and turns as well. By the end of the series people are going to be pretty assaulted I think - but in a good way."
As for her take on Bea, Cormack said because Wentworth picks up her story at the start of her prison life she's a far cry from the old character in Prisoner.
And though she comes across as intensely fragile, and seemingly struggling to cope with prison life, she is more than capable of dealing with the reality of life behind bars. "She just wants to survive, keep her head above water, and the most important person in her life is her daughter ... but she's had a pretty hard life so far, so she's pretty savvy in terms of surviving in prison."
When: Monday, 9.30pm
Where: TV2
What: Doing time with Bea and the girls.
Drama pick: HARRY
The police investigation has come a long way since Lua, a young Samoan kid under the influence of P, killed two people following a spate of armed robberies. In the last five episodes Harry (Oscar Kightley) and his team have weeded out everyone from the street dealers to the P cook. In the finale, the focus turns to the syndicate behind the drug ring. But though Harry (Oscar Kightley) is getting closer to cracking the case, he's still struggling to come to terms with the suicide of his wife and looking after his daughter's needs. For series creator, Steven O'Meagher, Harry's plight is what is central to the show. "At its heart, Harry is a simple story of a man who is trying to recover from grief [and] what gives the series its edge is that Harry is recovering while deeply involved in trying to resolve a brutal double homicide - which unexpectedly leads to a much bigger case."
When: Wednesday, 9.30pm
Where: TV3
What: The final phase.
Food pick: THE FOOD TRUCK and DISHING UP AUSTRALIA WITH AL BROWN
Chef Michael Van De Elzen is back for another season of whipping up healthy takeaway favourites in his trusty 1970 Bedford. He'll be tackling Mexican tacos, Chinese dumplings and creamy Italian pastas. If you're not in the neighbourhoods of Christchurch, Wellington or Rotorua when the truck pulls up, you can head along to Van De Elzen's recently opened Food Truck eatery in Auckland. Also on Saturday are two new foodie shows. Local chef Al Brown heads across the ditch to discover the best of Australia's food - from Sydney's street-side vendors to remote and wild cook-ups. Coasters (7.30pm, TV One), is hosted by restaurateur Steve Logan, who travels our coastline.
THE FOOD TRUCK
When: Sunday, 8pm
Where:TV One
What: Reducing the guilt factor.
DISHING UP AUSTRALIA WITH AL BROWN
When: Saturday, 8pm
Where: TV One
What: From street to outback.
Medical pick: GREY'S ANATOMY
You might've thought after the plane crash that ended season eight that all the Seattle Grace doctors would quit their jobs and leave behind the stressful, dangerous world of surgery. But then there would be no more Grey's Anatomy, and it appears season nine is by no means the last, with season 10 already expected to screen in the US later this year. The first episode picks up 30 days after last season's plane crash, and begins to fit together the pieces of their rescue, the trauma of losing Lexie Grey, along with the extent of their own injuries. And there's a new group of interns hoping to find their place in the hospital, assigned to the doctors for training. Meredith quickly earns herself the nickname of Medusa for her somewhat ruthless approach. Later in the series, fans can expect a variety of guest stars, including Neve Campbell as Derek Shepherd's sister.
When: Monday, 8.30pm
Where: TV2
What: Plane crash aftermath.
Satire pick: BLACK MIRROR
The first of these stand-alone utterly black comedies from the BBC's Channel Four and the scabrous pen of Charlie Brooker has as its premise the British prime minister being forced into having sex. With a pig. On live TV. Why? Because a popular royal has been taken hostage and that's what the kidnapper demands and the networked nation puts him in a damned if he does/doesn't position. There is, of course, a twist in the tale. It's not a show for delicate sensibilities, especially as it's delivered straight and with such grim tension. Some may find it brilliant. Many will find it appalling. The first episode of the three in the first series - which won a best mini-series gong at the International Emmy Awards last year - is entitled The National Anthem. Following episodes promise to be more subtle in their dissections of the state of social media-powered Britain.
When: Wednesdays 9.30pm
Where: SoHo
What: Confronting comedy.
- TimeOut