The next master of the Tardis could be black, or a woman.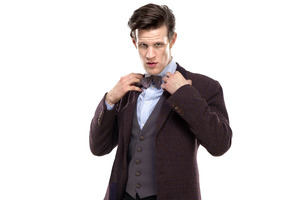 A host of big names have joined the race to play the next Doctor Who following Matt Smith's announcement he's stepping down as the TV Time Lord this year - but series producer Steven Moffat is refusing to name names.
Smith will vacate the Tardis after wrapping the show's 50th anniversary episode, handing over the keys to a new Who.
Speculation about a makeover for the sci-fi show began when John Hurt was introduced as the Doctor in the most recent season finale and now fans have taken to blogs and webchats to discuss all manner of options.
Hurt will return for the 50th anniversary episode, but executive producer Moffat is refusing to name Smith's successor.
"Somewhere out there ... is someone who's about to become the Doctor," he says.
Fans seem to like the idea of a black Doctor Who, with Homeland's David Harewood and Idris Elba mentioned as potential possibles, while there's growing interest in a female taking over the lead - Dame Helen Mirren, Olivia Colman and Fiona O'Shaughnessy appear to be early frontrunners.
Meanwhile, bookmakers William Hill have made former Harry Potter star Rupert Grint and Russell Tovey from Being Human their joint 10/1 favourites to be named the next Doctor.
Smith's decision to stand down will also lead to speculation not only as to who's next, but also what's next for Smith?
Leaving one of the most talked about roles in UK TV can be tricky with no guarantee of future success.
The earliest doctors, William Hartnell and Patrick Troughton, were in the twilight of their careers when they played the role.
So Smith will no doubt look at the paths trodden by the likes of 10th Who David Tennant, who has had a busy TV career, playing Hamlet and starring in The Politician's Husband on the BBC as well as starring in ITV's recent hit, Broadchurch.
He might too note how Tennant's predecessor, Christopher Eccleston, has mixed TV dramas with roles in Hollywood blockbusters such as G.I. Joe: Rise of the Cobra and Thor: the Dark World.
For the rest it's a mixed bag, with some resorting to one-off spots on The Bill and Casualty, while Colin Baker's post-Who career seems to have focused on touring theatre.
Peter Davison, the fifth doctor, has become a regular in Law & Order UK, and Tom Baker is now better known for his voice work. Neither Sylvester McCoy nor Paul McGann ever achieved the same profile after they said goodbye to the Tardis though Jon Pertwee moved on to star as Worzel Gummidge.
Smith will no doubt be plotting his next move carefully, rather than risk appearing in panto in a few years' time and have everyone ask: "Who's that again?"
- AAP/Independent