Family's human side exposed as Charles leads praise for 'Mama'.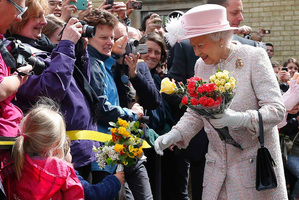 I woke up on Sunday a republican and went to bed a monarchist. But it's my own fault for drifting across to BBC Knowledge and a late-afternoon avalanche of tributes to Queen Elizabeth on the occasion of her 60 glorious years in a crown.
I'd been attracted by the odd promise of A Jubilee Tribute to the Queen by the Prince of Wales, an hour-long nod to his "Mama" - as he put it - by her oldest boy Charles.
But then I noticed there was a lot more right royal viewing on offer than that mere 60 minutes.
For three hours ahead of Charles' tribute, there was The Diamond Queen, an access-all-areas three-part documentary following Her Maj for a year and ladling in loads of history and new interviews with various royals.
It was overwhelming, ridiculous and compelling in almost equal amounts.
Royalty is such a bizarre business when you're allowed up close - touching and strangely human, despite all the jewels and the phenomenal real estate; bit like Coronation Street but with coronations.
And, oddly, it was even more human and touching when the sad old Prince popped up at 7.20pm to present his tribute. It's hard to imagine making a documentary about your own mum - especially when you're 63 and still waiting for her to give up the day job.
But Charles' fuddy-duddy charm did the trick as he settled in and played back through the family's home movies - or "cine films" as he called them.
"There's Fun," he exclaimed, recalling the name of a shaggy little pony he was shown riding as a chubby carefree toddler. He giggled and he shed a few tears and described his mother as "something that's always there" with a faraway look in his eye that you could hardly blame him for, given the fact that it appears she could well live forever, God bless her.
I might have made myself more prey to all this essentially English nonsense by pre-loading my inner anglophile a couple of days earlier.
Last Friday I caught the first in a new series of The Hotel Inspector (TV One, 9.30pm, Friday), a classy cliche of a series starring presenter Alex Polizzi as a fierce hotel expert who comes to rescue a troubled establishment every week.
The new series got off to a very English start - in a Benny Hill sort of a way - as she visited the Clover Spa, a specialist boutique hotel on the outskirts of Birmingham.
The hotel's specialty was "elite naturism", as generously demonstrated in myriad wobbly back shots of 56-year-old host Tim Higgs - first sighted naked in the kitchen chopping cucumbers (what else?) and hammered home with endless double entendres from the voice over.
The cracks were beginning to show, profits were sagging and business was wobbling as Polizzi considered whether to strip off and catch the vibe with the rather odd Tim or run for safety.
For a while the show felt like one big tease, but Polizzi in the end - nudge nudge - kept her bottom firmly out of sight and set about saving the place, unsettling a shy press junket and unleashing a most unusual open home in the process.
Quite how the rest of the series will live up to the cheek of the opening episode might be quite a challenge.